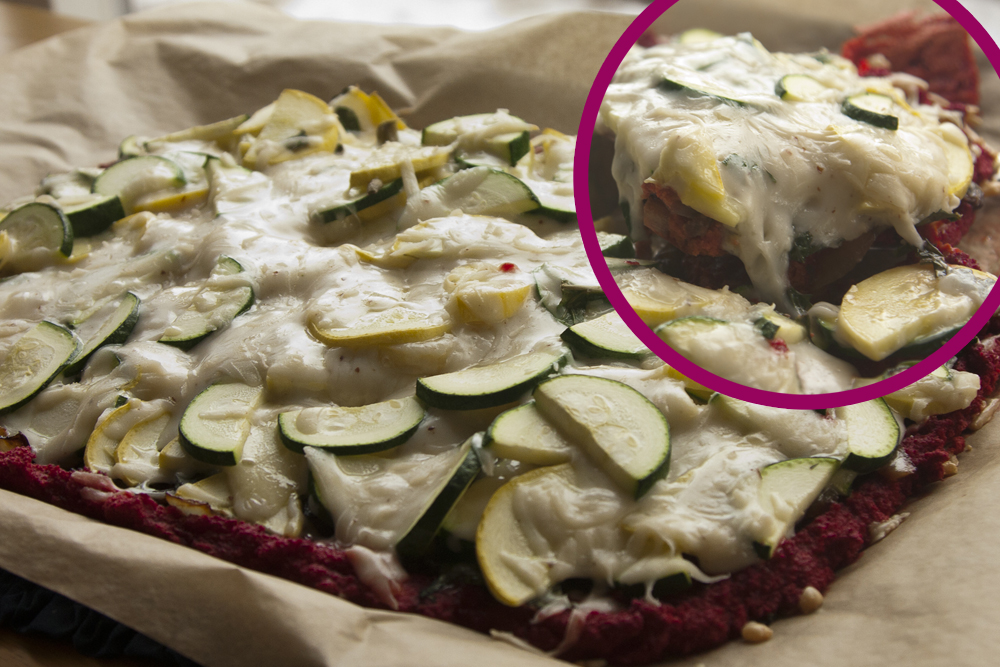 What to serve for a lite lunch with friends, or mom? An eye-grabbing unique pizza, of course. Who's ever heard of a pink pizza crust?
My son thought it a bit wierd, what a guy…
Serves 4
Crust Ingredients
1¼ cup pureed beets (about 3 large beets) roasted or boiled first (if you boiled your beets, try my Beet Juice Lemonade recipe  😛 )
1¼ cup almond flour
2 teaspoons baking powder
½ teaspoon salt
1 egg
1tablespoon coconut milk (I used coconut milk kefir, then let the dough culture on the counter for several hours—this is completely optional)
Preparation
Preheat oven to 350o.

Mix the pureed beets with all ingredients to form a wet dough.

Using a spoon, spread the dough to about ⅓ inch thick on parchment paper lined backing dish. Smooth the "dough" with the back of a spoon leaving the edges slightly thicker than the rest.

Bake 15-20 minutes in the preheated oven until "crusty."

Top with desired toppings and bake another 10-20 minutes until any cheese melts.
Pictured is layers of toppings as follows:
1 onion sliced thin and caramelized by cooking in 1 Tablespoon olive oil stirring often until slightly browned; adding 1 Tablespoon balsamic vinegarfor the last minute of cooking
½ cup chopped basil
1 small yellow and 1 small green zucchini halved and thinly sliced
8oz package of Lizenatti Mozzarella-style almond cheese, grated
Enjoy your healthy brunch!
Copyright © 2017 Marie Sternquist. All Rights Reserved