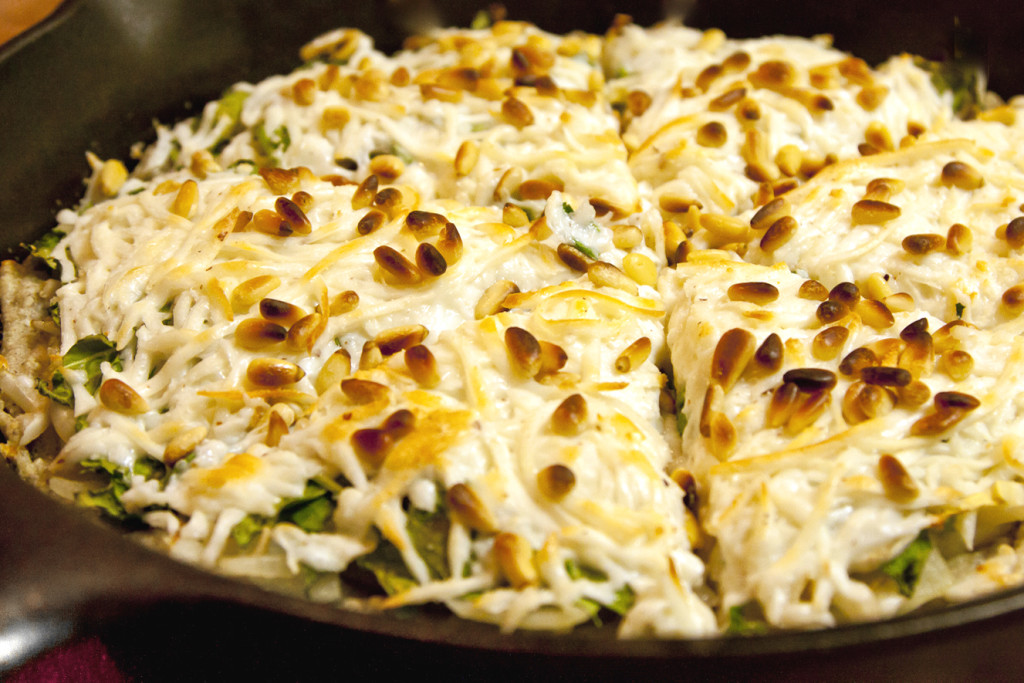 If there is one thing I've learned from my Eating to Restore Balance class…
…we love pizza. Unfortunately, with so many food sensitivities and allergies these days… the fact that most of our dairy has become cheap anti-food… wheat and most commercialized grains are cheap anti-food… now there is an abundance of Paleo pizza recipes, gluten-free pizza recipes, egg-free pizza recipes…
…but we complain that these healthy pizza recipes are not "real" pizza. Paleo pizza is not real pizza. Grain-free pizza… dear reader, think again.
I'm *not* on the Paleo bandwagon. But I do believe in heritage eating. Being both Italian and from New York, home in 1905 to the first and most famous US pizzeria: Lombardi's, I hope not to create  the big pizza faux pas but that 5-cheese over tomato sauce and puffy white-flour dough is as non-Italian as pasta. Well sort-of…
Depending on your definition of pizza and desire for a variety of delicious toppings… get the true history of pizza according to me 😉 or skip below to my Paleo-friendly, allergen-free fluffy dough, amazingly delicious, grain-free pizza recipe below—topped with liver and digestion loving greens…
…and it passes the "my teenage son likes it" test.
Paleo pizza? is pizza your heritage?
The bronze age starting about 3000 B.C. began global trading that brought raw materials for metal-working to Aegean (Mediterranean) society. No, early pizza pans were not made of metal… well maybe they were (read on). These societies "improved" the grain milling process from sprouted meal to a more finely stone-ground flour that separated out the bran.
Persian pizza (circa 500 B.C.) was invented when Persian soldiers baked a flatbread on their shields covered with cheese and dates… or figs…
Greek pizza (about 100 B.C.) was a flat bread called plakountos, on which the Greeks placed various toppings, usually whatever was available. Ground flour was fermented to sourdough in clay pots by commercial bakeries, bread became a commodity. Somewhere, pitta bread evolved and some say this is an origin for the word pizza. Well, maybe stuffed pizza?
Neopolitan pizza: Naples (south of Rome) was originally founded (as Neopolis) by the Greeks. The Roman expansion also evolved bread to five grades of commercially-available baked goods from coarse barley bread for slaves to wheat (and later white) bread for the upper classes, etc.
Pizza and the Fall of the Roman Empire
Think about this: the Romans knew enough about nutrition that, despite high social class, they fed their best athletes the whole grain "slave bread" for its higher nutritional content.
Meanwhile, "class distinction" developed for the first time and along with it emotional feelings of refinement, higher living, snob appeal, etc. that became associated (heavily promoted) with the "goodness, purity , nobility and birth rights"… of white bread.
The health of the Roman upper class leaders failed; the Empire crumbled. While some blame the degeneration of Roman health on the lead content in their cooking vessels, archeologists definitely note the changed bone structure, recorded obesity, and dental problems that archeologically mark when a society shifts to a grain-based diet. Roman athletes fared better than white bread; but they still weren't healthy.
"When the world seems to shine like you've had too much wine" … "when you walk down in a dream but you know you're not dreaming signore" sorry Dean Martin, I know grain-induced brain fog doesn't rhyme…
What does Christopher Columbus have to do with pizza?
His story depends entirely on the earth (and pizza? and tomatoes? and wheels of cheese?) being round… and possibly some historical "thinking outside the box" ?
Answer #1: in the ancient world, Naples was part of Rome and the pizza oven continued to operate even though it took about 1500 years to return to a white-flour focus. (this is true)
Answer #2: Christopher Columbus came from Genoa, the home of pizza's cousin, foccacia… His expedition ships brought along grains (easily stored for long journeys) and had on-board pizza ovens… (bread was baked in on-board coal pits…)
But those aren't the answer I'm looking for. The answer is: Tomatoes!
Columbus was blocked by the Americas on his way to China and India… global trading expanded yet again… other explorers and settlers followed. Tomatoes came to Europe.
But it wasn't Columbus who brought tomatoes back. These Peruvian beauties were sent back after Francisco Pizzaro of Spain conquered the region in 1531.
At first, most Europeans feared tomatoes as being poisonous (they are members of the Nightshade family), but the adventurous (and hungry) poor of Naples found that tomatoes were not only NOT deadly, they were delicious.
"Verace Pizza Napoletana" (TRUE Neapolitan Pizza) In fact, tomatoes taste mighty fine on a hot baked flatbread. With cheese.
The traditional cheese and tomato pizza tastes so good, in fact, there is a written industry standard and regulations for producing true Verace Pizza Napoletana called Pace's 'Il Disciplinare' (the Discipline), and it is some serious stuff, almost poetry: "The consistency of the Verace Pizza Napoletana should be soft, elastic, easy to manipulate and fold. The centre should be particularly soft to the touch and taste, where the red of the tomato is evident, and to which the oil for the Pizza Marinara, the green of the oregano and the white of the garlic…" yummmm.
Originally a food for the poor, pizza—Italian for "pie"—were oven-baked flatbreads with various toppings, eaten for any meal and sold by street vendors or informal restaurants—met the need for cheap fast food. Despite the haughty wealthy minority calling these eating habits "disgusting, tourists soon flocked to poorer neighborhoods to sample this delicacy.
Pizza Margherita (1889) has as its naming legend a visit to Naples by King Umberto I and Queen Margherita who, according to this legend, became bored with their steady diet of French haute cuisine and requested an assortment of pizzas. Queen Margherita loved the variety with soft white cheese, red tomatoes and green basil (maybe the colors of the Italian flag… maybe "dance down the street with a cloud at your feet that's amore").
Whatever your personal pizza belief, the official pizza Margherita is also regulated in the "Disciplinare:" "the white of the mozzarella should appear in evenly spread patches, with the green of the basil leaves, slightly darkened by the cooking process…"
Tomato & Cheese Pizza takes the world by storm
Over 69,000 pizzerias exist in the United States selling approximately 350 slices of pizza per second! They pretty much all sell something called "Neapolitan-style" pizza and "pizza Margherita". And since we Americans have such a great love of being told what to do, a whopping 27 of these 69,000 actually joined the VPN to ensure they make it in traditional ways.
And the imposters? Dominos pizza alone has exploded to 9000 delivery centers of machine-made white-flour crusts just waiting to be thawed and topped with canned tomato sauce and factory-grade white cheese.
No longer the "ethnic" treat, for many pizza has become "the thing you buy when you're too busy to cook and need something delivered"… (sigh)
A return to our roots: Gourmet pizza and Paleo pizza
The good news in the ebb and flow of pizza health, is the decidedly non-Neapolitan pizza variations including California-gourmet pizzas topped with anything from barbecued chicken to smoked salmon… perhaps something to sustain our modern-day Greek or Roman athletes, or Persian warriors…
…and a return among the Paleo and gluten-free sect to a Paleo pizza crust made from fermented (instead of baker's yeast) pseudograins (instead of wheat) and without sugar… covered with a tasty variety of nutrient-dense local and fresh toppings.
Is Paleo pizza or even gluten-free pizza really possible?
Possible? Of course. Palatable? probably. Satisfying? Hmmm the crust makes all the difference and even in my kitchen there sure are a lot of recipe fails.
Even my past crusts that I was willing to publish weren't all that I'd hoped. Most of them have been too heavy, or too bean-flavored, or too – something.
until now…
And to up the ante, this one is egg-free to boot (eggs from pastured hens are nourishing foods and suit most healthy diets including gut-friendly GAPS, SCD and Paelo. The problem is that it is just so hard to find healthy eggs and so many people have become sensitive to the egg anti-foods sold even under the organic label).
I bring you:
The pizza pie that's amore!
Serves 3-4
Ingredients
Special equipment: a 12-14 inch cast iron pan
Crust:
1 cup Coconut Milk Kefir (see note below)
1 cup raw almond flour
1 tablespoonChia seeds, ground fine in a spice mill
1 teaspoon sea salt
½ teaspoon garlic powder
½ teaspoon oregano
1 teaspoon Italian seasoning
1 to 1 ½ cup tapioca or arrowroot flour
½ teaspoon baking soda
¼ cup grated Lizeretti almond mozeralla cheese
2 tablespooons extra virgin olive oil or pasture butter
Onions & Bitter Greens Topping: (or suggest your favorite topping in the comments section, below)
1 medium sweet onion, halved and thinly sliced
1 clove garlic,minced
2 tablespoon extra-virgin olive oil
2 tablespoons balsamic vinegar
2 sprig(s) fresh thyme (I used dried stems from my last-summer garden)
Sea salt, to taste
Freshly ground pepper, to taste
1 head(s) white radicchio, thinly sliced
1 cup baby kale leaves, trimmed clean and thinly sliced
12 ounces Lizeretti almond cheese mozzarella, grated
¼ cup raw pine nuts
Preparation
Start the crust in the morning:
Note: the Kefir provides a probiotic natural leavening as well as healthy fats that add to the richness of this crust. In theory, you may be able to substitute 1 cup water plus a small amount, probably a tablespoon or two, raw apple cider vinegar. I haven't tried this, but it should work. Also, in theory, you could probably add a packet of baker's yeast. But since I'm making this for people with lots of food sensitivities, baker's yeast is not exactly a direction I'd take. Especially since this is already on the high-starch side of things if you are trying to restore gut health or control weight. Just saying…
1. Mix together the coconut milk kefir, almond flour and ground chia seeds. Let sit in a warm place all day until about an hour before you want the pizza to be ready.
Finish the pizza later the same day:
2. By day end, the "batter" will have taken on a thick, fluffy, sourdough starter consistency. Mix in the salt, soda, spices and 1/4 cup grated mozzarella-like almond cheese.
3. Mix in about a cup of Tapioca starch or Arrowroot flour to form a sticky dough but one that will hold its shape. It will not be thick like a bread dough that you will allow to rise and roll out. Add more flour as needed until it holds its shape. There is some room for error on this, but generally speaking if your end result is too tough then you added too much starch-flour, if it doesn't hold its shape then too little. Set aside and let rest.
Prepare your Ingredients and assemble your pizza:
4. Preheat your oven to 350 degrees F.
5. Trim and clean the baby kale leaves and your radicchio head. Slice both thinly.
6. In a small saucepan, sauté the thinly sliced onion, minced garlic plus the sage sprigs in 2 tablespoons of olive oil and 2 tablespoons balsamic vinegar. The onions are ready when they become translucent and tender. Discard the sage twigs and set aside the onions.
7. Heat 2 tablespoons of olive oil in your large cast iron skillet over medium heat. When hot enough so that a droplet of water sizzles in the heat of the oil, remove the skillet from the heat.
8. Working somewhat quickly, spread your pizza crust dough across the bottom of your cast iron skillet. Caution; your skillet is hot! This will brown the bottom.
9. When the dough is spread pretty evenly, place the entire skillet into the preheated oven for about 15 minutes.
10. Remove the pre-baked dough and spread with the cooked onions then sprinkle evenly with radicchio and kale, cover all with grated almond mozzarella cheese then sprinkle with pine nuts.
11. Return this pizza to the oven for another 15 minutes until the cheese begins to soften.
12. Turn the oven to broil and monitor until the top cheese and pine nuts begin to just turn golden. Remove from the oven.
Slice, serve, and wait for your taste buds to thank you.
Copyright © 2015 Marie Sternquist. All Rights Reserved