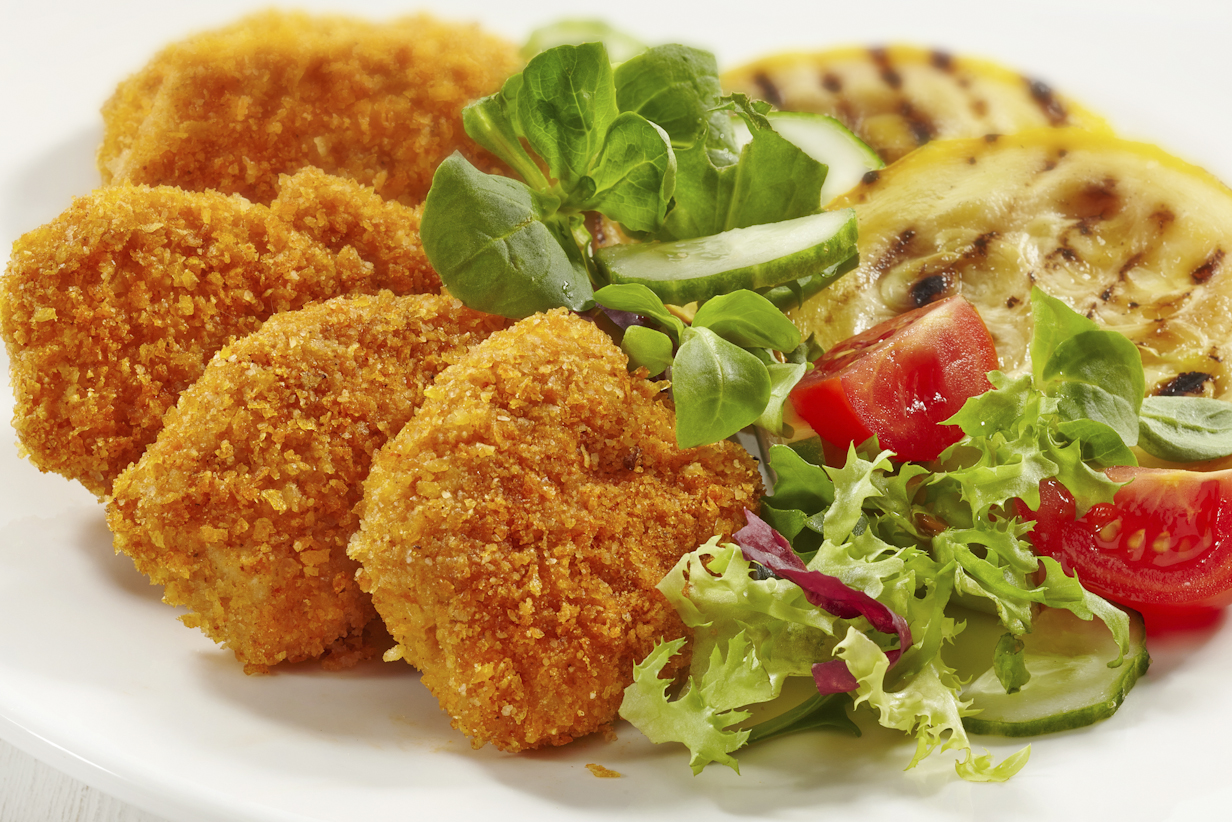 Looking for a lunchbox item? Look no farther than this scrumptious grain-free chicken nugget dish that actually looks like what your child's friends bring… 😎

Ingredients
1 pound of organic free range chicken tenders or deboned breast meat
1 cup almond flour (or possibly garbanzo-fava flour as a nut alternative)
2 Tablespoons turmeric
¼ teaspoon cayenne pepper
2 teaspoons sea salt
2 eggs
½ cup extra virgin coconut oil
Action: 1. In a blender process the almonds, turmeric, cayenne and salt. Put this mixture on a plate 2. Chop the chicken into cubes or 'nuggets' 3. Crack the egg into a bowl and whisk with fork. Dip the chicken into the egg, coat it well and then into the spices! Get as much of the spice mixture onto the chicken! 4. Heat a pain with coconut oil and when really hot drop the chicken nuggets in until cooked!
Preparation
Mix together the almond flour, turmeric, cayenne and sea salt. Spread the mixture on a plate.

Slice the chicken into sizes that approximate nuggets.

In a separate bowl, whisk the egg until very well mixed.

Dip each chicken nugget into the egg, coating well, then roll in the spice mix. Set aside on a sheet of wax paper until all are done.

Heat the coconut oil in a frying pan. Use medium high heat but each stove is different so monitor this. The oil should be hot but not burning.

In batches, drop each chicken nugget in the oil and brown about 8 minutes or less per side, depending on nugget size. Use a slotted spoon or tongs to turn.

When cooked, using the slotted spoon or tongs, remove from cooking oil. Place on a paper-towel-lined plate. Continue with more batches until all are cooked.
These refrigerate and pack well for lunch-box items.
Send or serve with dairy-free "sour cream" dip, yummy!
Variations
Made these with halibut—scrumptious!

Copyright © 2014-17 Marie Sternquist. All Rights Reserved