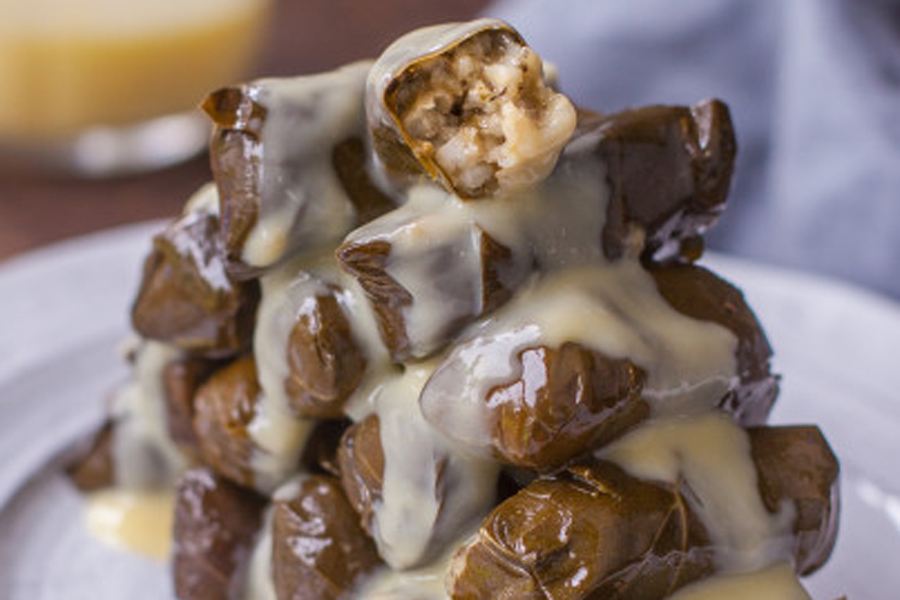 My son is half Greek. Even if he wasn't, I am smitten with the flavors of Greek cooking and we all know the health benefits of following a Mediterranean diet.
I am also in love with the social life surrounding eating; eating well, eating delicious, eating from the earth that is an inseparable part of Greek island culture. (Although my Greek is somewhat limited to "good morning" "please" "thank you" … and now "αγριόχορτο"), while visiting inlaws, every dish of sautéed greens, each one different from the other, was αγριόχορτο (which roughly translates to "weeds") and every wine came from the vineyards behind the homestead. Tradition.
This recipe is a knock-off of the traditional Greek dolmade; usually made with young grape vine leaves and rice, this year I made it with collard greens, since my friend Lynne's garden had an abundance, and buckwheat groats because rice has become another of those inflammatory food problems.
Dolmades are definitely best when everyone chips in around the kitchen table to roll the filling into the leaves. Definitely add children, grandchildren, spouses, grandmothers, cousins, neighbors, roommates, friends… and good storytelling to the required ingredients list. The rest of the ingredients are somewhat adaptable 😊
Enjoy!
Makes 2 dozen
Ingredients
1 large bunch collard greens (about 1½ pounds), stemmed (or go traditional and use "vine" (grape) leaves)
¼ cup extra virgin olive oil
1 large red or yellow onion, finely chopped
4 garlic cloves, green shoots removed, minced
½ cup buckwheat groats, rinsed well and soaked overnight
½ cup sunflower seeds or pine nuts, rinsed well and soaked overnight
1 14-ounce can chopped tomatoes, drained (retain juice)
2 tablespoons to 1/4 cup currants or golden raisins (to taste)
¾ teaspoon cinnamon
¾ teaspoon freshly ground allspice berries
Sea salt to taste
½ teaspoon freshly ground black pepper
1¼ cups water
2 tablespoons chopped fresh mint
¼ cup chopped fresh dill
1-2 cups chicken stock (or any bone broth)
Juice of 4 lemons, retain the juiced lemons and slice them
4 eggs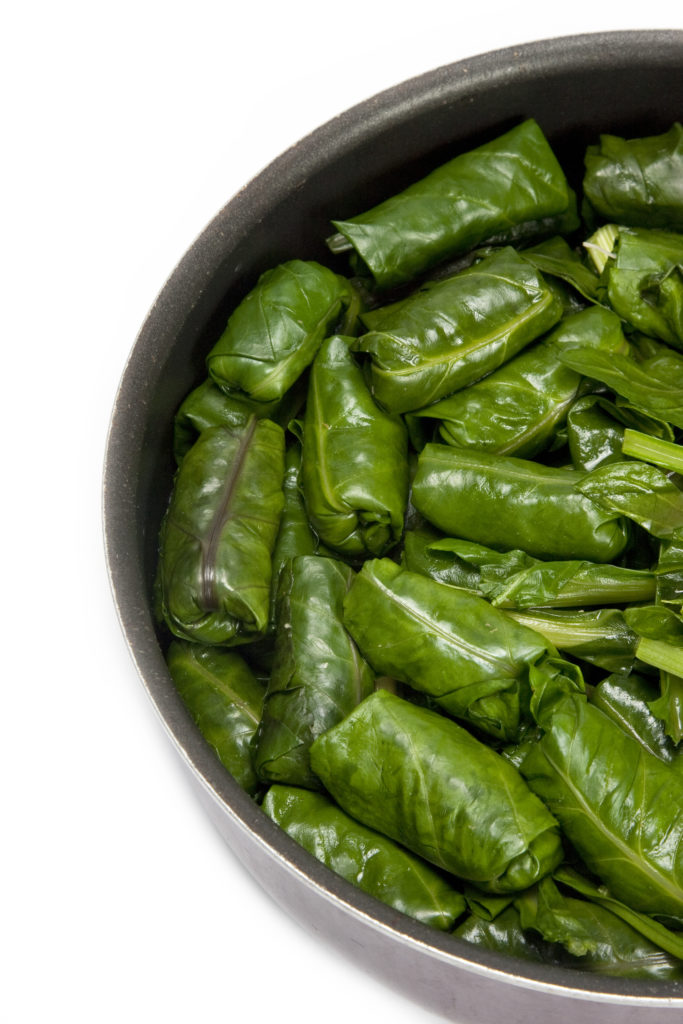 Preparation
Carefully remove the thick main stems from the collard greens keeping, the leaves intact. Larger leaves can be cut in half along the main stem to remove it.

Bring a pot of water to a boil. Blanch the collard leaves two minutes in batches. Drain leaves of any excess water and set aside.

Warm 2 Tablespoons of olive oil in a skillet. Sauté the onion and garlic until translucent, about 5 minutes.

Rinse the soaked buckwheat and pine nuts / sunflower seeds and stir into the sautéed onion and garlic until the rice is coated with oil. Stir in the tomatoes, currants, cinnamon, allspice. Add salt and pepper to taste. Add 1¼ cup water, bring to a boil, reduce the heat, cover and simmer until all of the liquid has been absorbed, about 20-30 minutes. Remove from the heat and allow to sit for 10 minutes without disturbing. Stir in the mint and dill.

Assemble your team of children, grandchildren, grandparents, friends, roommates… roll up your sleeves… roll into stories of your fondest memories and adventures… and…
Everyone takes a blanched collard leaf; place 1 – 1½ Tablespoon of filling into the center of the leaf. Roll up like a burrito: fold the outer sides toward the center over the filling, then roll bottom of the leaf toward the top.

Place the rolled dolmades into a stock pot that has been wiped on the inside with 1 Tablespoon olive oil. Place dolmades against the outside edge, working toward the center, with the open tops of the leaves against the edge of the next dolmade to keep them closed while cooking. Continue rolling until all the filling or leaves are used up (if you have extra leaves, use them in a salad. If you have extra filling, make "meat balls" and steam them with the dolmades).

Pour the remaining olive oil over the dolmades and then pour in stock to cover. Put a plate on top of the dolmades to make sure they can't move when they are boiling.
Bring to a boil, lower the heat and cook the dolmades for 30 minutes. When tender, remove from heat and place the cooked dolmades on a serving platter (use a slotted spoon to remove one at a time.)
Prepare the lemon sauce
Remove about 1 cup of broth from pot and let it cool down a little; you want it hot just not scalding hot.

In another bowl beat 4 eggs until frothy, then slowly add juice from the lemons while continuing to beat or whisk the eggs.

Take the warmed broth and add to the egg mixture slowly a ½ ladle at a time while continuing to beat or whisk the egg mixture.

When the lemon sauce is a nice rich consistency, but not runny, drizzle over the dolmades and serve.

Leftover broth in pot makes good Avgolemono (Egg Lemon soup).
Enjoy!
Copyright © 2017 Marie Sternquist. All Rights Reserved