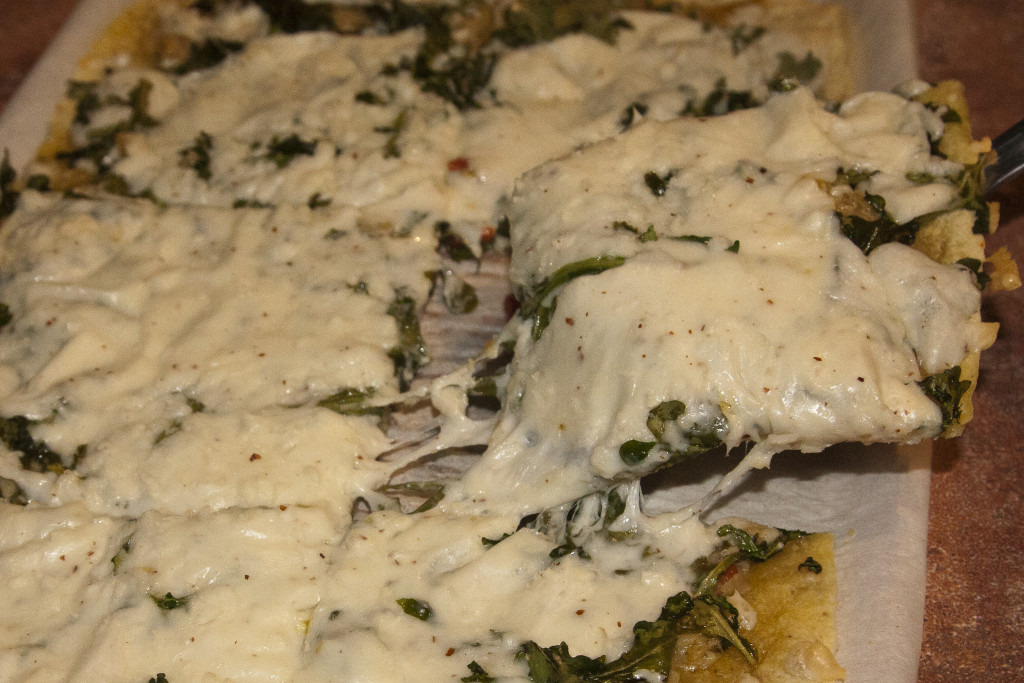 The first time I made this, I made the thin-crust crispy paleo pizza version.
Yummy!—the first ever paleo crust that held together when loaded with toppings and cheese and… still was finger food.
The next time I made it, I doubled the recipe, used Coconut Milk Kefir and let it sit on the counter all afternoon to leaven the paleo pizza dough. Then poured it in my largest cast-iron skillet, skipped the flip. I didn't even try. But 10 minutes in the oven baked it through to where it was ready for toppings.
A moist and nice deep-dish pizza, but I like the pizza crust recipe here better for the deep-dish.
I guess it all depends on what you are going for.
Serves 4
Ingredients
½ cup Almond Flour
½ cup Tapioca Flour
1 cup Coconut Milk or Coconut Milk Kefir
1 tablespoon Nutritional Yeast
1 teaspoon Oregano
1 teaspoon Sea Salt
¼ teaspoon Fennel Powder
¼ teaspoon Paprika
¼ teaspoon freshly ground Black Peppercorns
pinch of Crushed Red Pepper Flakes
2 tablespoons virgin olive oil
Special equipment: a 10-12 inch cast iron pan
Preparation
Mix all ingredients together to make a thick batter. Note: set this on the counter at room temperature for a few hours or all day if using the natural leavening of coconut milk kefir.

Preheat the oven to 400 degrees F.

Warm the cast iron pan over medium heat, add the olive oil and swirl to coat the pan.

Ladle the batter into the pan and allow to cook until it is firm enough to flip.

This is the only hard part—it's optional but makes for a nicely crispy crust: Flip your partially cooked crust and cook the other side a minute. (possibly you could broil the top of the crust without flipping it; treat with caution…)

Place any sauce, toppings, etc., on the cooked crust and bake in the cast iron pan 15-20 minutes until done.
Slice and enjoy!

Copyright © 2016 Marie Sternquist. All Rights Reserved