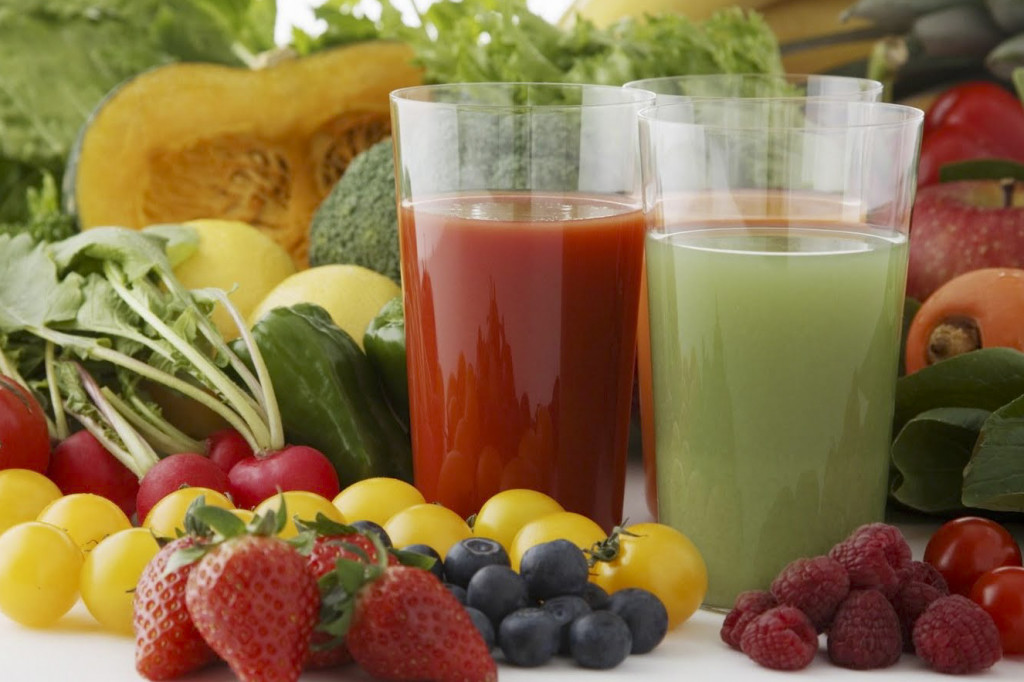 It all comes down to the issue of fiber, and not all of those trendy cold-pressed juices have that important dietary component.
Sugars = premature aging and burn-out
When it comes to juicing vs. blending, please understand a few key things: Juicing is all the rage, but juicing benefits and the energy burst may come from the sugars, not the vitamins, like you think. While it is very true that juicing gets you a concentrated serving of amazing vitamins and nutrients, most juicers also concentrate the sugars. In fact, one serving of juice from a celery—and who thinks of celery as sugary??—gives as much concentrated sugar as a cola.
Below, is a little table Nutrition Diva put together of 8 fruits and vegetables commonly used in juicing. The table shows how much starting fruit/vegetable it takes to produce 16 ounces of juice and how much sugar that amount contains.  As you can see, the trick is that it takes enormous quantities of produce to make 16 ounces of juice and the sugar content varies quite a lot. Fruit is the highest of course, followed by high sugar vegetables like beets and carrots. Green vegetables are the lowest but there are some surprises. Since some of the sugar is left behind in the pulp (fiber), for sake of argument assume only 75% of the sugar makes it into the juice.
Juicing is not better than whole fruits and vegetables. In fact, it removes some nutrients. Blending is better.
While fresh juice does hydrate and supply nutrients, the fiber and some of the antioxidants found in the skins and seeds of fruits and vegetables are eliminated in the juicing process. Blending, on the other hand, leaves the fiber and also the vitamins, minerals, and living enzymes in that fiber (the cell wall).
Juicing vs blending eliminates the fiber and concentrates the sugars. But with the fiber now gone, the body absorbs fructose sugar more quickly. All veggies and especially fruits have natural sugars, but with the fiber removed the drink spikes blood-sugar levels.
How to get the glowing skin and fit look you want? Give your body what it needs, not what you're told to buy.
Nutrient-dense, alkalizing, clean foods create glowing skin, high energy & vitality
Your home-made V-8 without the high sodium and half the cost. This recipe not only tastes amazing, you get a full day's worth of veggie servings when you are too busy to chop, cook, and clean. In just 3 minutes start to finish, you've made a great-tasting snack, a mid-day pick-me-up, or add a piece of wild fish or grass-fed meat and call it a meal. Loaded with vitamins, minerals, high in potassium and fiber all from easy to find ingredients.
3-4 servings (drink throughout the day)
Ingredients
1 handful prepped and cleaned baby carrots
2 4-inch ribs celery
½ cup baby spinach leaves, cleaned
½ cup frozen blueberries
1 large or 2 small Roma tomatoes
2 cups cold water
2-3 ice cubes

Preparation

1. Place all ingredients in a Magic Bullet or Vitamix
2. Blend on high 2 minutes.
How simple is that??

Variations
experiment with different veggies, see if you can make a great tasting drink without any added fruit… We love cucumbers & basil… find a great combination? share it in the comments, below.

Copyright © 2014 Marie Sternquist. All Rights Reserved