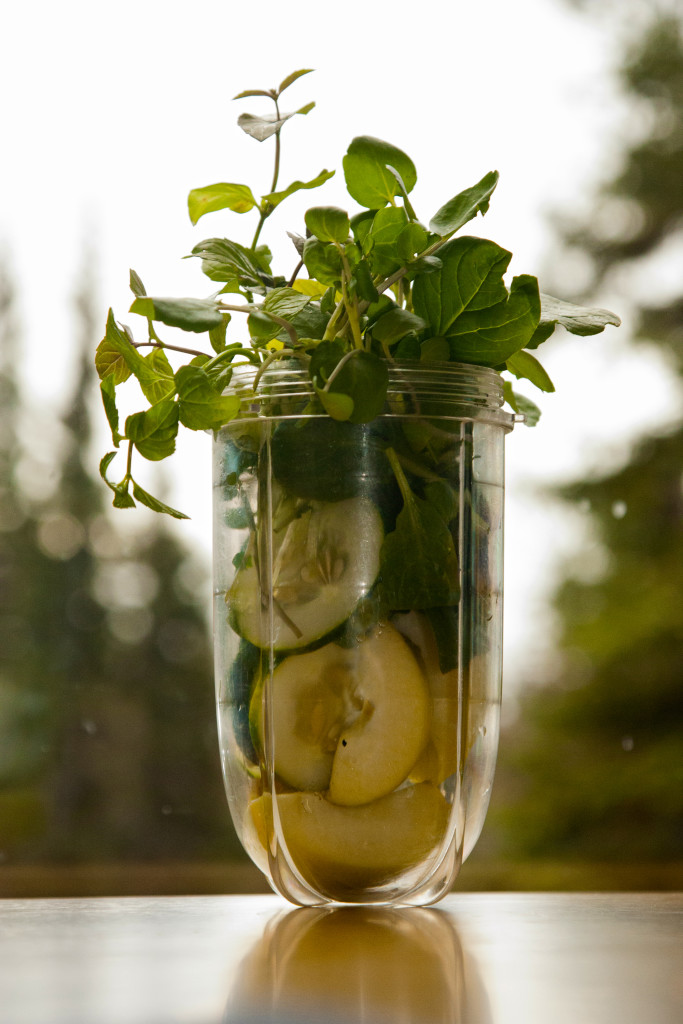 Mid-October here in Anchorage but this year our ground hasn't frozen yet and my garden is still producing the frost-tolerant greens like spinach, chard… and even my newest addition: chocolate mint.
I love mint. Mint is a great appetizer or palate cleanser, and it promotes digestion. It soothes stomachs and calms inflammation. And besides that, it makes a great coconut milk ice-cream. But today I'm still on my Rejuveo cleanse, so I think I'll stick to the program…
Serves 2
Ingredients

2 cup of organic greens—spinach, kale, watercress adds a nice "radish" bite
2 large organic celery stalk
1 cup fresh mint
1 cucumber (peel if it's waxed, otherwise the peel is healthful)
1 peeled lemon
1 small green apple, cored and sliced
2 brazil nuts
2 – 3 cups of coconut milk kefir or unsweetened almond milk

Important! If this is your breakfast please make sure to add 21 grams of protein powder. I love the Standard Process clean proteins and also these in the Rejuveo Cleanse page at Amazon.
Special equipment: a Vitamix or suitable blender
Blend well and enjoy!
Copyright © 2015 Marie Sternquist Cecchini. All Rights Reserved