I thought only my Eating to Restore Balance group knew the truth about our Fourth Food Group—veggies—until now that is. So first of all, applaud yourself for entering the produce section and making some selections—based on the shopping carts I stand next to in the check-out line, you are already special.
But now there is a tool if you're looking to know which are the highest ranked powerhouse fruits and vegetables, foods most strongly associated with reduced chronic disease risk, on a nutrient density scale. See, creatures of habit, we tend to head to the store and pick the same old familiar groceries without giving vitamins and minerals much thought.
Or…
We hear all about anti-oxidants in blueberries, or vitamin C in citrus, or potassium in bananas but seeking one nutrient we miss the diverse veggie forest our body really needs.
Now that's changed. Would you like another way to pick what you'd love to eat?
Nutrient density: what genuine building blocks are you getting with those calories?
A nutrient density list, created by Dr. Jennifer Noia of William Patterson University, is based on a ranking system using scientific studies which identified leafy greens, yellow/orange vegetables, citrus fruits and cruciferous vegetable as the whole foods most commonly associated with reduced chronic disease. Berries and allium (onions, garlic, etc) veggie intake have also been linked to a reduced risk for cardiovascular and neurodegenerative disease, and even some cancers. So, Dr. Noia began with the known benefits of these real foods, listing them on scale from 1 to 100, based on the percentage of 17 top recommended nutrients (like iron, vitamin C, fiber, zinc and folate) per 100 grams.
Dr. Noia rated 47 fruits and vegetables using a novel system that looked at both nutrient density and diversity. In other words, a food  exceptionally high in one nutrient but lacking in many others wouldn't be classified as nutrient-dense. The result is an exhaustive list of high-nutrition foods worth focusing on, worth exploring with these vegetable recipes or these salad recipes.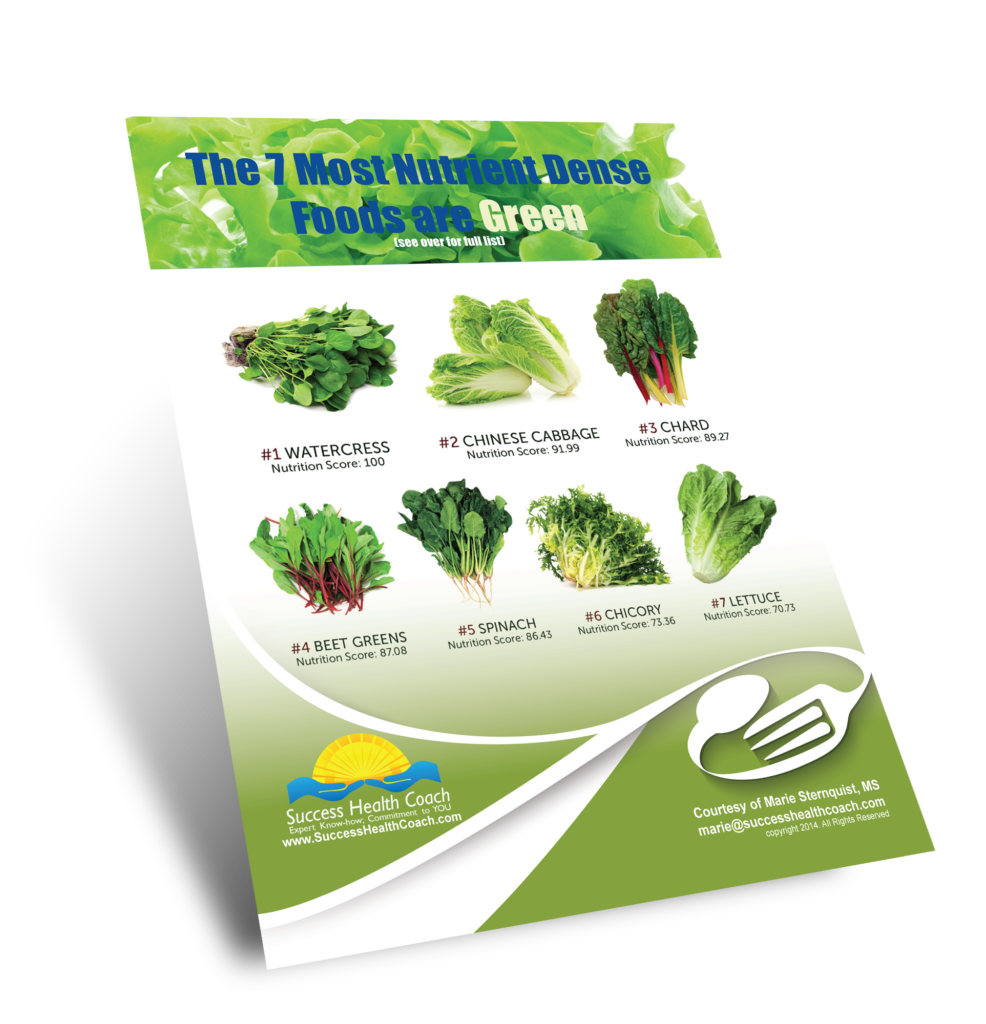 On this lists of 47 foods, it's not a surprise that the top 7 are actually leafy greens.
Download your FREE copy <CLICK>
Defining Powerhouse Fruits and Vegetables: A Nutrient Density Approach
Table 2. Powerhouse Fruits and Vegetables (N = 41), by Ranking of Nutrient Density Scoresa, 2014
| Item | Nutrient Density Score |
| --- | --- |
| Watercress | 100.00 |
| Chinese cabbage | 91.99 |
| Chard | 89.27 |
| Beet green | 87.08 |
| Spinach | 86.43 |
| Chicory | 73.36 |
| Leaf lettuce | 70.73 |
| Parsley | 65.59 |
| Romaine lettuce | 63.48 |
| Collard green | 62.49 |
| Turnip green | 62.12 |
| Mustard green | 61.39 |
| Endive | 60.44 |
| Chive | 54.80 |
| Kale | 49.07 |
| Dandelion green | 46.34 |
| Red pepper | 41.26 |
| Arugula | 37.65 |
| Broccoli | 34.89 |
| Pumpkin | 33.82 |
| Brussels sprout | 32.23 |
| Scallion | 27.35 |
| Kohlrabi | 25.92 |
| Cauliflower | 25.13 |
| Cabbage | 24.51 |
| Carrot | 22.60 |
| Tomato | 20.37 |
| Lemon | 18.72 |
| Iceberg lettuce | 18.28 |
| Strawberry | 17.59 |
| Radish | 16.91 |
| Winter squash (all varieties) | 13.89 |
| Orange | 12.91 |
| Lime | 12.23 |
| Grapefruit (pink and red) | 11.64 |
| Rutabaga | 11.58 |
| Turnip | 11.43 |
| Blackberry | 11.39 |
| Leek | 10.69 |
| Sweet potato | 10.51 |
| Grapefruit (white) | 10.47 |