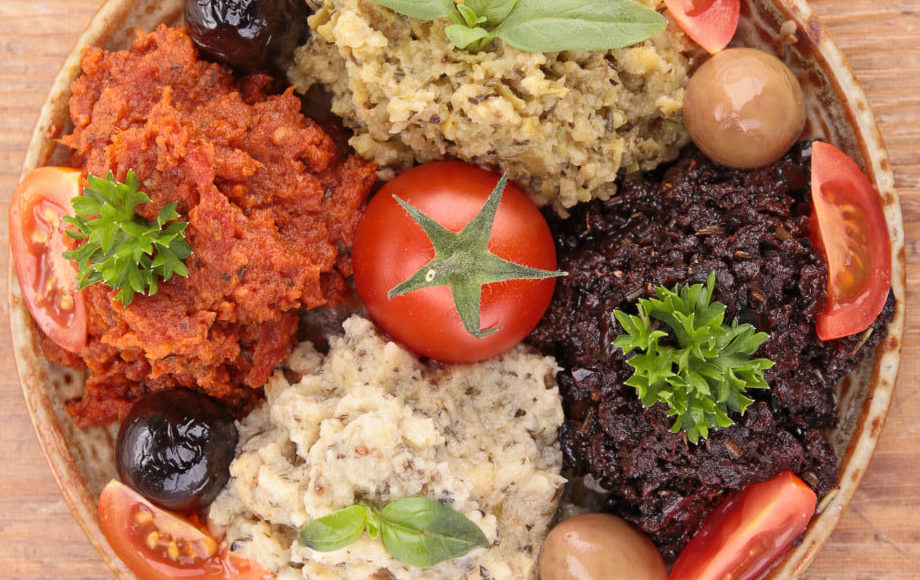 It's only right and proper to enjoy an Alaska summer evening (or mid-day picnic, or…) with ice cold hibiscus tea (or…). Snacks for an evening respite lounging in the late sun demand flavor. Given my Mediterranean (well, and Irish and other) lineage, the Provencal favorite, tapenade, is perfect for relaxing with companions.
The French word tapenade comes from the Provençal name for caper buds, tapeno. Traditionally, capers would have been preserved in "amphoras" with olives, olive oil, and herbs (amphoras are a type of tapered jars primarily used for fermenting beverages and small foods). Eventually, the mix would re-emerge as a pungent mush – the origins of the modern tapenade. Although most everybody thinks of tapenade as an olive dip, it is traditionally a fermented food made with capers.
So now I've really turned things on end: this tapenade recipe skips the capers and uses a series of garden or fresh market veggies. Don't want to exclude the poor caper? When I worked up the recipe, I just didn't have any. I bet about ⅓ cup would be perfect if you want. Name origins aside, at least we've returned tapenade to its true root as a food of culture and not just an olive mash.
Makes about 2 quarts
Ingredients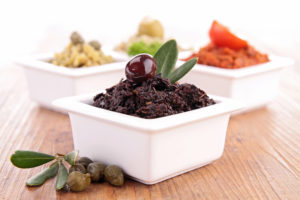 1 cup cauliflower florets
2 carrots, diced
½ red bell pepper seeded and sliced
1 celery stalk, chopped
3 cloves of garlic, peeled and crushed
1 teaspoon Sea salt
1 teaspoon turmeric
1 teaspoon mustard seeds
1 teaspoon dill weed
1 cup pitted black olives, preferably niçoise or kalamata
¼ cup yellow banana pepper, seeded and sliced
2 Tablespoons extra-virgin olive oil

Tomato version: Swap the olives for 1 cup sundried tomatoes
Green olive version: Swap black olives for green
Artichoke version: Swap black olives for 1 cup marinated artichoke hearts
Special equipment: two 1-quart ball jars with lids

Preparation
Place the above in 2 1-quart Ball jars

Add water to within 1 inch of the top

Place lids on jars and invert to mix several times. Then loosen the lids and let sit on top of the fridge (or in a warm place) for 2-4 days

Strain all liquid from the cultured veggies and reserve for future ferments or discard

Transfer veggies to a food processer and add the olives (or sundried tomatoes, or marinated artichoke hearts, or…) plus the yellow pepper and enough olive oil to keep moist and have the desired consistency (which is somewhat up to you, so drizzle it in while you do the next step)

Pulse a few times, but please leave some texture
This tapanade can be stored in the fridge for at least a month and it gets better with time
Serve over dosas, Seeds Gone Crackers, in any sort of Roll Up, in celery sticks…

Copyright © 2017 Marie Sternquist Cecchini. All Rights Reserved