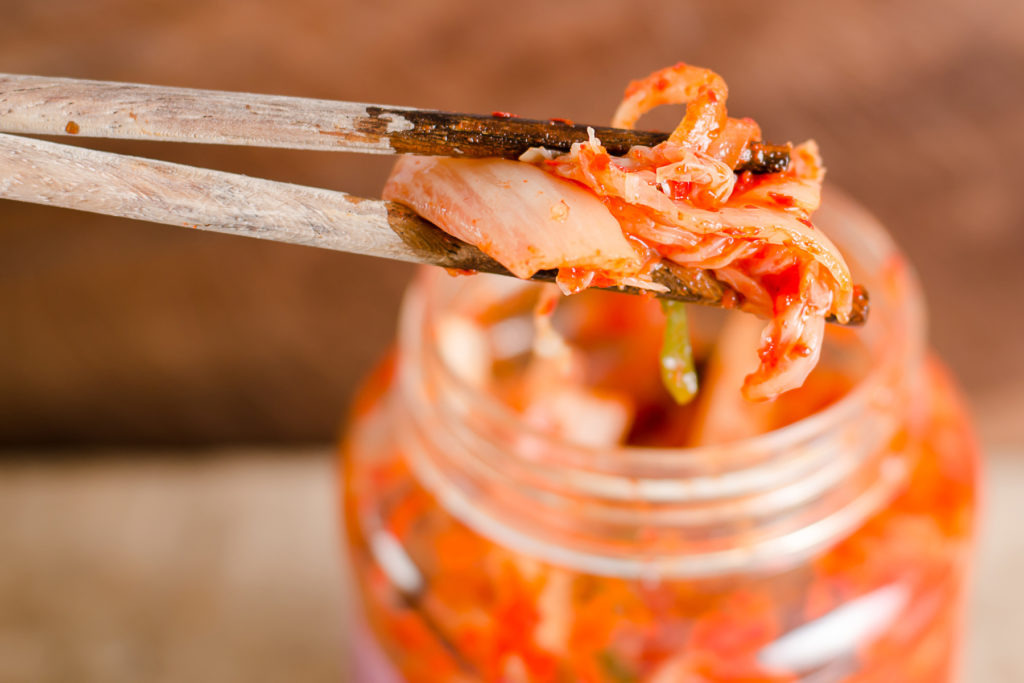 Game plan: Kimchi needs time to ferment. I recommend starting a batch about a week before you plan to use it.
What to buy: Korean red pepper powder or kochukaru is what gives kimchee its spiciness. It can be found in Korean markets in large resealable plastic bags, in different grades of coarseness and spiciness. Choose a grade based on your personal preference. No convenient market near you? Use my links to order online.
Also known as saeujeot, Korean salted shrimp are very small, naturally fermented shrimp that impart authentic flavor to kimchi. They are sold in jars and can be found in the refrigerator case of Korean markets. Again, no Korean market near you? Order the dried version online; just be sure to reconstitute in water before adding to this recipe.
Enjoy!
Makes 2 dozen
Ingredients
1 Chinese cabbage (Napa)

2 Tablespoons sea salt
6 cups distilled water
8 garlic cloves minced
¼ cup fresh ginger, peeled and minced — from abut a 2-ounce piece
⅓ cup kochukaru (Korean red pepper powder — see above)
2 teaspoon saeujeot (Korean salted shrimp — see above, optional — or 2 Tablespoons fish sauce)
½ nori sheet
2 daikon peeled and cut into 2-inch matchsticks
1 bunch spring onion chopped
Preparation
Cut the cabbage in half lengthwise, remove the core then shred crosswise. Place into a large mixing bowl.
Add sea salt and massage into cabbage, then add enough distilled water to cover. Place a plate and weight on top of the cabbage and let sit in a dark, dry place for at least 4 hours, 12-24 hours is ideal.
Optinal: If you are using dried shrimp, cover in water to reconstitute while the cabbage is salting.
Pour the cabbage and juice into a colander to strain, then rinse. Gently squeeze out extra water. Drain the shrimp.
In the large mixing bowl, combine the garlic, ginger, chili flakes, shrimp (if using), and nori with 2 tablespoons of distilled water. Mix until a thick paste forms. Add 1 tablespoon of salt.
Mix in the daikon and spring onions, then add the cabbage. Mix and massage for about 5 minutes or until all vegetables are coated in the spice paste.
Pack into a clean 2-quart canning jar. Use your hands or a kitchen tool to press the mixture down to the bottom of the jar so that the juices cover the solid parts. If, after a good amount of packing, there aren't enough juices to cover, add a little more water.
Seal tightly and leave to ferment out of direct light for 3–6 days, then refrigerate.
Enjoy!
Copyright © 2018 Marie Sternquist. All Rights Reserved