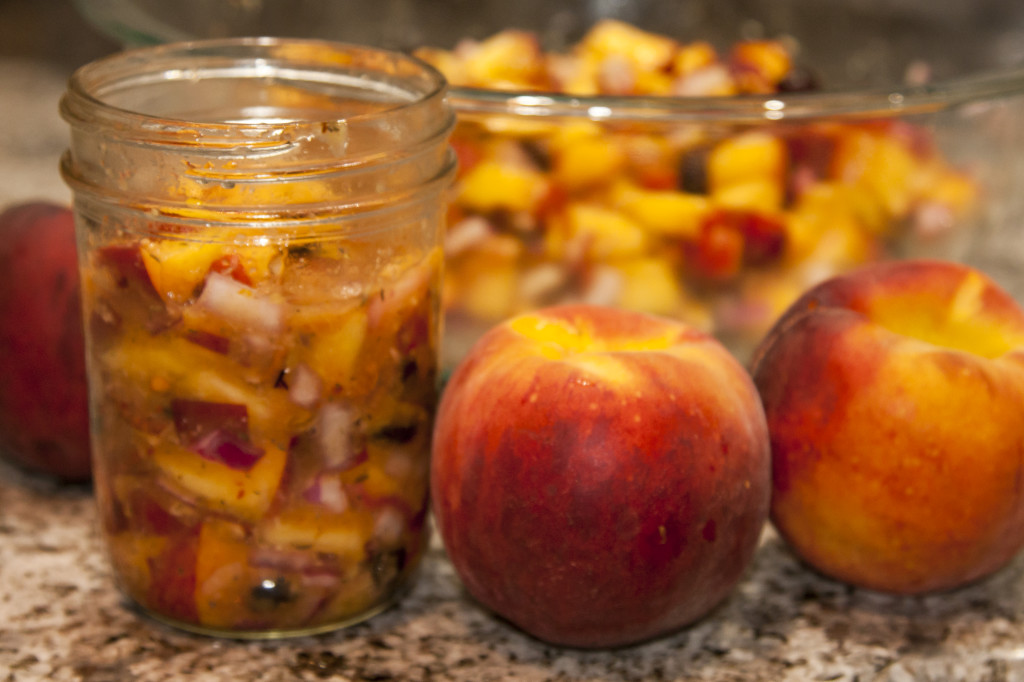 Chutney is such a wonderful way to introduce fermented foods. Most people enjoy the natural sweetness of fruit, even people who are still adapting their taste buds away from the breads, grains, pastas, cereals, cookies, candies, cakes and ice-creams that imbalanced their health to begin with.
Serve on the side as a sauce for chicken, fish, meat especially game, or as a glaze; blend with mayonnaise and use as a dip with veggies;serve with roasted root veggies; the possibilities are endless… as are the variations. I made this lacto-fermented chutney with peaches. Experiment with other fruit and adjust the spices to your liking. Apples or pears work extremely well.
Makes 3 Pints
Ingredients
4 peaches, pitted and chopped coarsely
½ cup applejuice sweetened dried cranberries
½ cup pecans, chopped
2 teaspoon Sea salt
Juice of 2 small lemons
grated rind of 2 lemons
½ onion, finely chopped
1 Tablespoon grated fresh ginger
½ teaspoon red pepper flakes
½ teaspoonsried thyme
1 teaspoon dried cumin
½ teaspoon fennel seeds
½ teaspoon whole corianader seeds

Preparation

1. Combine the chopped pears with the raisins, pecans, sea salt, lemon juice, onions, ginger and hot peppers together.
2. Place the mixture little by little in your fermentation jar, pressing it in with a spoon or small mallet to release the juices.
3. Make sure the mixture fills the jar to 1 inch below the top (leave space for expansion) and make sure the released juices cover the mixture. If not, create a brine of 2 teaspoons sea salt to 1 cup water and add it to the mixture.
4. Put the lid on the jar and place in a warm spot in your kitchen to ferment for 2 to 4 days.
5. Check the chutney from time to time to be sure that the brine covers the vegetables. Using a spoon, remove any mold that may form on the surface. This is harmless if opportunistic.
6. You can check the taste and move it to the refrigerator when you're happy with it.
Copyright © 2014 Marie Sternquist Cecchini. All Rights Reserved