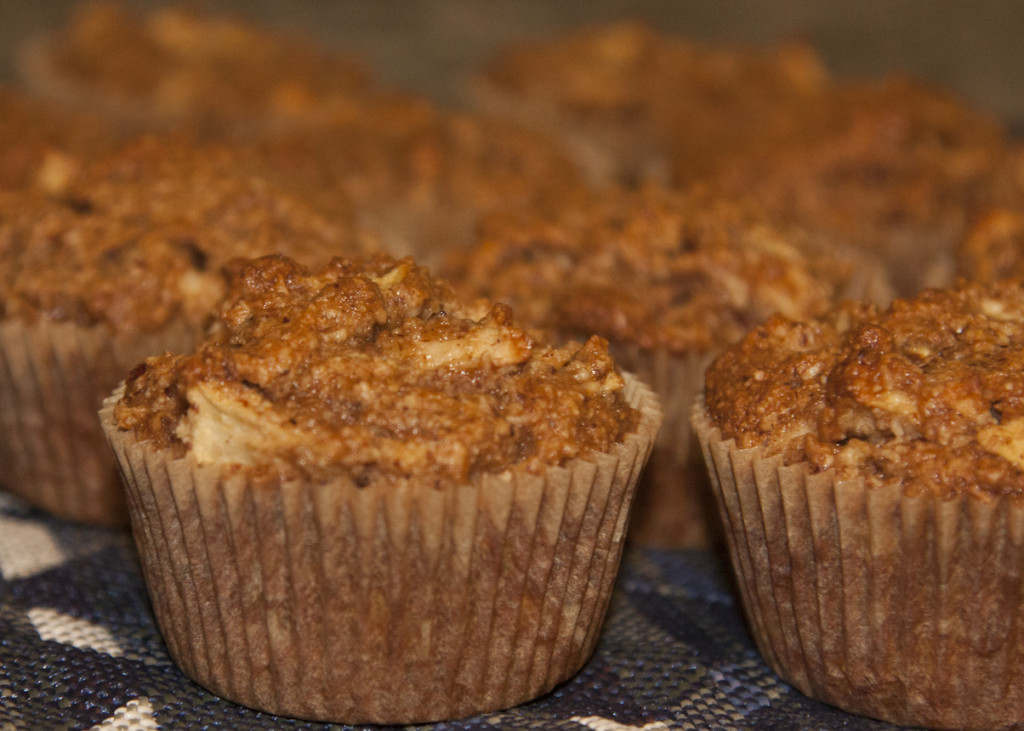 I really needed something different for breakfast, and quickly. This high protein, gluten-free apple muffin recipe is also great packed for lunch, taken on a hike, or anytime just out of the oven…
There are some flours that I just keep on hand: Almond flour, Coconut flour, Arrowroot powder, Buckwheat… these are staples in my gluten-free, grain-free kitchen. Check out my resources page–especially here in Alaska, it can be less expe
makes 10-12 Muffinsnsive and easier to order online.
Ingredients
2 cups almond flour

¼ cup arrowroot flour
½ tsp baking soda
½ tsp salt
2 Tbsp cinnamon
¼ tsp nutmeg

¼ cup grapeseed oil
½ cup maple syrup
1 tsp vanilla
2 medium apples, peeled & diced

1 large egg

Preparation

1. Preheat oven to 350°F.
2. Line muffin tins with paper liners, or grease tins.
3. Combine all the dry ingredients in a large bowl.
4. Combine all the wet ingredients in a medium bowl.
5. Add the wet ingredients to the dry ones, and mix into a batter.
6. Fold the diced apples into the batter.
7. Spoon the batter into greased muffin tins or paper muffin cups.
8. Bake for 30 minutes or until a toothpick inserted comes out clean.

Copyright © 2013 Marie Sternquist Cecchini. All Rights Reserved