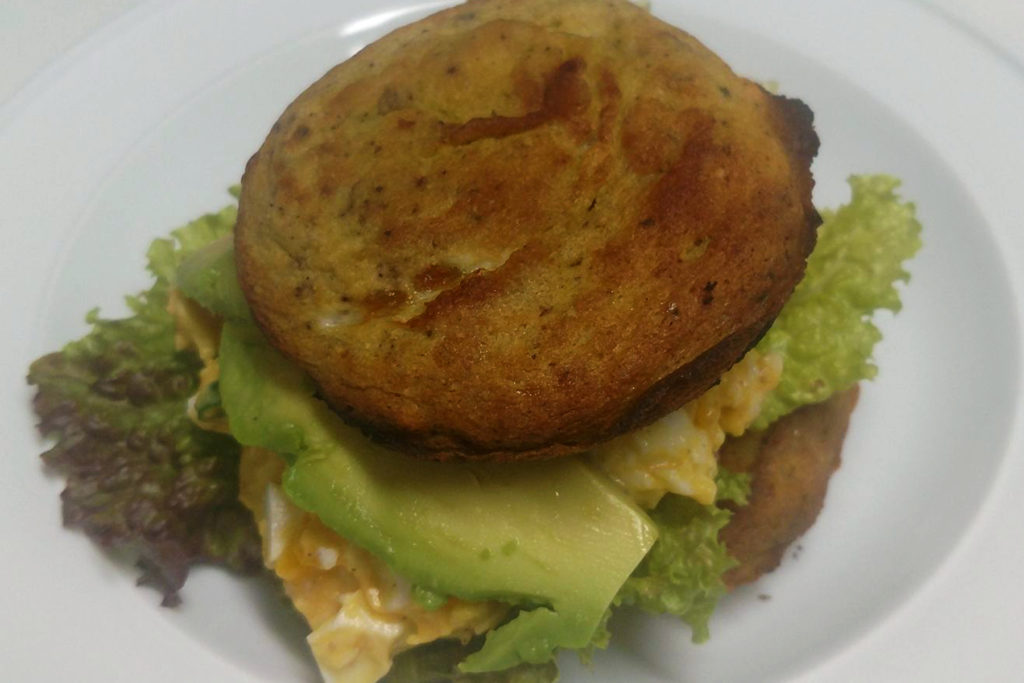 Yes you can have that favorite English muffin breakfast sandwich. This delightful and fast English muffin recipe was sent me by a Rejuveo cleanse participant and is now a staple in my home.
Measures in parentheses are Michelle's "individual serving"; she makes one at a time right in the Ramekin. Me? These just don't last in my home very long and they do store well in the fridge.
Serve with sliced almond cheese, or avocado and lettuce egg sandwich (as Michelle shows in her picture) or… just 15 minutes from now and you'll have yours ready. Enjoy!
Makes 6
Ingredients (amounts for one muffin in parentheses)
3 tablespoons melted butter (½ tablespoon each)
3/8 cup almond milk (1 tablespoon)
3/8 cup coconut flour (1 tablespoon)
1 teaspoon baking soda (1/8 teaspoon)
1 ½ teaspoon apple cider vinegar (¼ teaspoon)
6 eggs (1 egg)
Salt, pepper, any other spices/herbs that you like

Preparation
Note: you can use muffin pans in a pinch, a standard muffin tin holds 3.5oz of batter. I use 6oz ramekins because I want them a bit less thick and more like English muffins.
Preheat oven to 400°F. Grease individual ramekins
In a bowl, mix all ingredients except apple cider vinegar
Distribute batter between six 6oz ramekins
Use ¼ teaspoon measure to sprinkle apple cider vinegar on top, it will bubble
Bake in preheated oven for 15 minutes.
Remove from oven and cool. Invert ramekins and they'll pop right out.
Optional: Cut in half and spread both sides with butter and broil for about 4 minutes each side to toast!
Copyright © 2018 Marie Sternquist Cecchini. All Rights Reserved