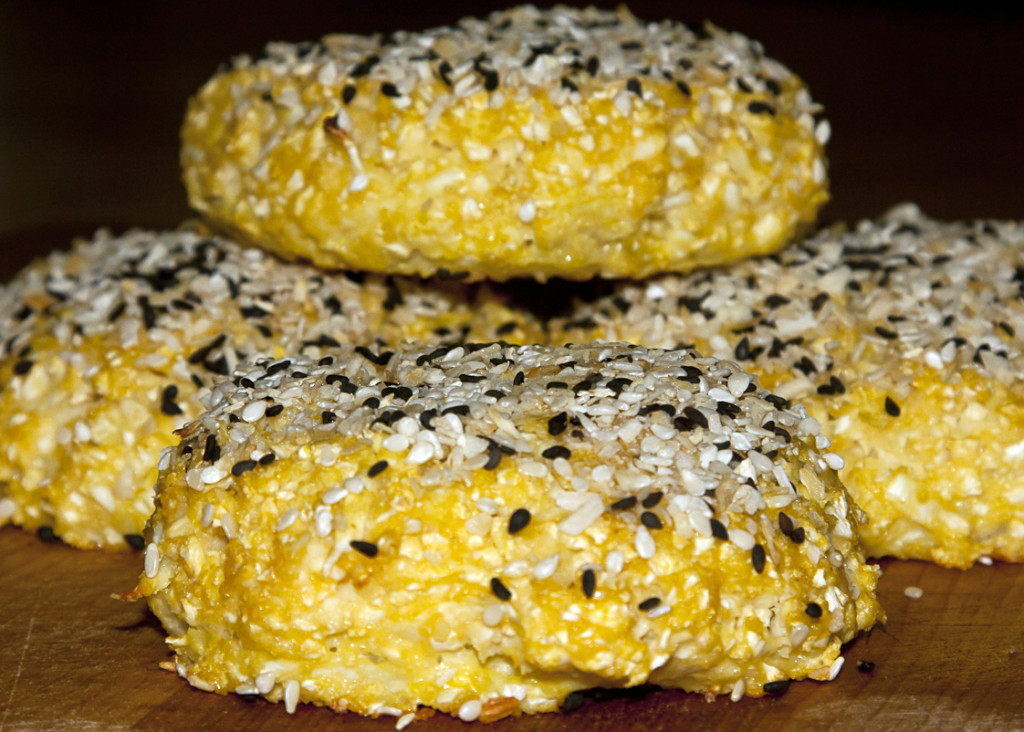 I've gotten sneaky in my young age  😮 Sometimes I just don't fess up that there are vegetables in surprising places.
This is one of those times.
Take a look at the photo, who would guess? And those first bites will leave you thinking "what a deliciously moist dinner roll!" I love the topping and it's extra little kick of crushed red pepper to match the jalapeno cheese in the dough. But these probably are closer to a serving size of veggies with cheese than bread. Go Paleo! Yes, sometimes you can have your cake and eat it too!!
Makes 6 rolls
Ingredients
1 head cauliflower (a medium, about 2 pound head)
8 oz Lisanatti Almond Cheese (I love the jalapeno jack version)
3 Tablespoons almond flour
2 Tablespoons coconut flour
½ teaspoon garlic powder
¼ teaspoon Himalayan sea salt
3 pasture-raised eggs
special equipment: parchment paper

Topping
½ teaspoon flax (and/or poppy) seeds
1 Tablespoon sesame seeds
1 teaspoon dried minced garlic
1 Tablespoon dried minced onion
½ teaspoon crushed red pepper
½ teaspoon Himalayan sea salt

Preparation
Preheat oven to 375 degrees F

Line a baking sheet with parchment paper.

In a food processor (quick and easy, use the grater attachment), or using a hand grater, grate cauliflower head to "rice" it. Transfer to a large mixing bowl.

Grate the block of cheese and transfer that to the mixing bowl. Mix together the cauliflower and cheese.

In a small bowl combine the flours, garlic powder, and salt—stir into the cauliflower mixture.

In a small bowl beat the eggs. Add them to the cauliflower mixture and mix well.

Make 6 even sized balls and lay onto the parchment paper-lined baking sheet. Press with your hand to flatten; reshaping as needed.

In a separate bowl combine the topping ingredients.

Sprinkle the "everything" topping over the rolls and press lightly into the top.

Bake for 20-25 minutes, or until bread-like consistency (time depends on the size of your rolls).

Optional: Broil on high for 3-5 minutes until the top is golden.

Remove from baking sheet and let cool directly on a cooling rack.
Serve with your favorite soups or dinners… take for lunch… try mixing in other things… let me know your favorite variation in the comments below.
Copyright © 2015 Marie Sternquist Cecchini. All Rights Reserved