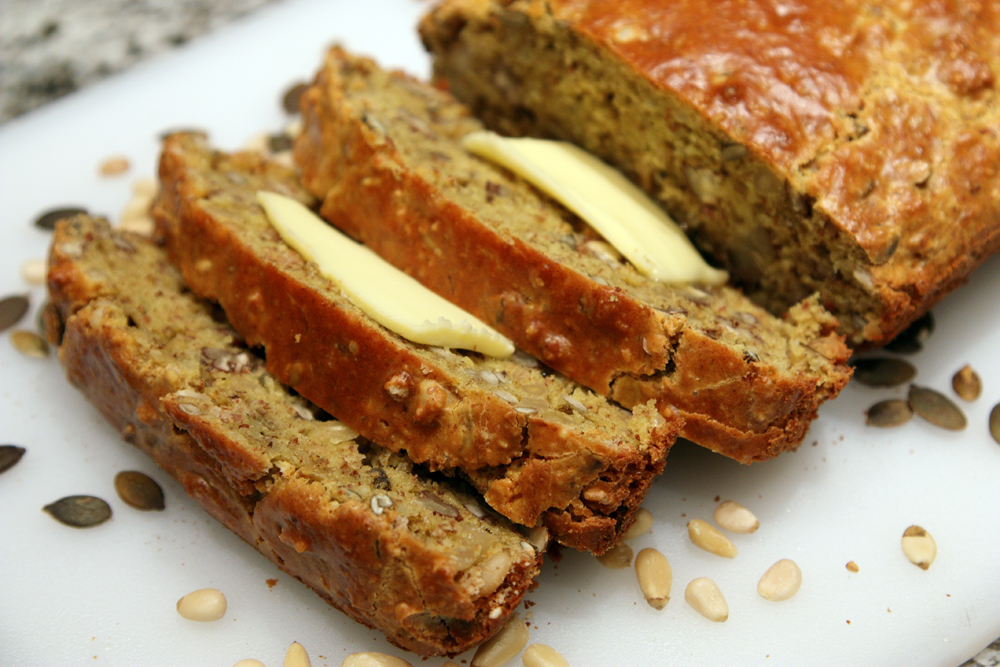 I guess you could call this "Many Nut Bread"… quick, delicious, and loaded with protein from the many nuts buried within (compared with grain breads anyway), nut flour options are just as easy, more tasty, and definitely more nutrient dense than grain flours.
No almond flour on hand? Just get out your Magic Bullet, some raw nuts (in this case almonds) and in seconds you have your own, fresh, nut flour. Technically almonds are not a nut, they are a seed—and there are a bunch of other seeds and nuts in this bread—loaded with vitamins and minerals, almonds have nutritional benefits for a number of areas of the body including heart health, cholesterol balance, weight control, blood sugar balance, and they provide a source of long-lasting energy.
Makes one dense loaf
Ingredients
Preparation
1½ cup almond flour
¾ cup arrowroot or tapioca flour
¼ cup flax seed meal
½ tsp sea salt
½ teaspoons baking soda
4 eggs
2 teaspoons raw honey
2 teaspoons apple cider vinegar
¼ cup pecans, coarsely chopped
¼ cup hazelnuts, coarsely chopped
½ cup pistachios, coarsely chopped
¼ cup pumpkin seeds
¼ cup pine nuts
¼ cup sesame seeds

Preparation
The night before, get all nuts soaking in water
In a medium bowl, combine almond flour, arrowroot, flax meal, salt and baking soda
In a larger bowl, blend eggs 3-5 minutes until frothy
Stir honey and vinegar into eggs
Mix dry ingredients into wet, then add soaked nuts and seeds
Pour batter into a well greased loaf pan
Bake at 350º for 30-35 minutes, until a toothpick inserted into center of loaf comes out clean
Cool and serve
Instead of regular butter – try making my Chipotle Marrow Butter for an absolute taste sensation!
Copyright © 2015 Marie Sternquist Cecchini. All Rights Reserved