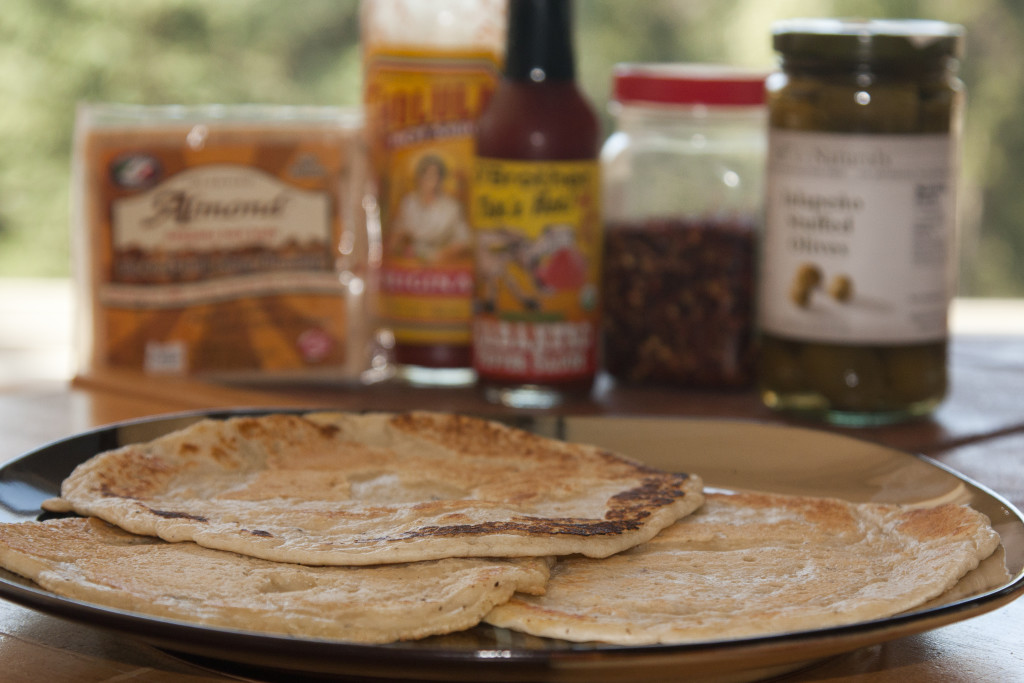 The searchcontest for grain-free tortillas continues… (we love games  😉 )
No, not exactly like the authentic tortillas from Bolivia or Chili, but just because these are gluten-free, grain-free, egg-free, dairy-free and super easy to make doesn't mean they have to taste boring.
There are so many wonderful chili recipes, soups, and lunch roll-ups and other ideas that just need something like… well… bread (almost). And these are egg-free too!
The texture is much nicer if you allow the batter to sit on your counter for at least a few hours. The kefir creates a natural leavening and also breaks down the phytic acid and tannins (although there are not many in almonds) making these wonderful tortillas very easy on digestion.
This recipe is basically lunch for two, so double, triple, quadruple the ingredients and have grain-free tortillas available all week—a quick grab for melted almond cheese snacks, lunch roll-ups, and you can even toast tortilla triangles in the oven to make them crispy for serving with a dip.
Makes 2 10" tortillas
Ingredients
½ cup almond flour
½ cup tapioca flour
½ cup coconut milk kefir (or use filtered water)
½ teaspoon garlic powder
½ teaspoon sea salt
¼ teaspoon finely milled black pepper
olive oil to coat the pan
Special equipment: a 10 inch cast iron pan

Preparation
In a Magic Bullet container or mixing cup, mix together the almond and tapioca flour, then stir in the kefir until evenly mixed. (HINT: put the kefir in first, easier to mix)

Let sit a few hours, covered, in a warm room to culture (if using water, it can sit overnight or longer. I haven't let kefir go that long. Leave a comment if you do.)

When ready to prepare, put a tablespoon or so olive oil in your cast iron skillet and warm it over medium.

Add the salt and spices to the "soured" batter and mix well, it should be pourable but not runny. Add more kefir or water if it needs to be thinned.

Pour about ⅓ cup batter onto your skillet and spread with a spoon until it is quite thin, like a crepe.

Cook about one minute until just bubbling through and firm enough to flip.

Flip with a spatula and cook another 45 seconds to a minute until firm. They may just be starting to brown but should not be crisp. You can certainly cook them longer if you want crispier tortillas—I like them rollable.

Place each completed tortilla on a cookie sheet or plate to cool and use however you want. Note: if you want them crisper, you can bake them in a 325 degree oven for up to 20 minutes.

Be Brilliant XOXO!

Copyright © 2015 Marie Sternquist Cecchini. All Rights Reserved