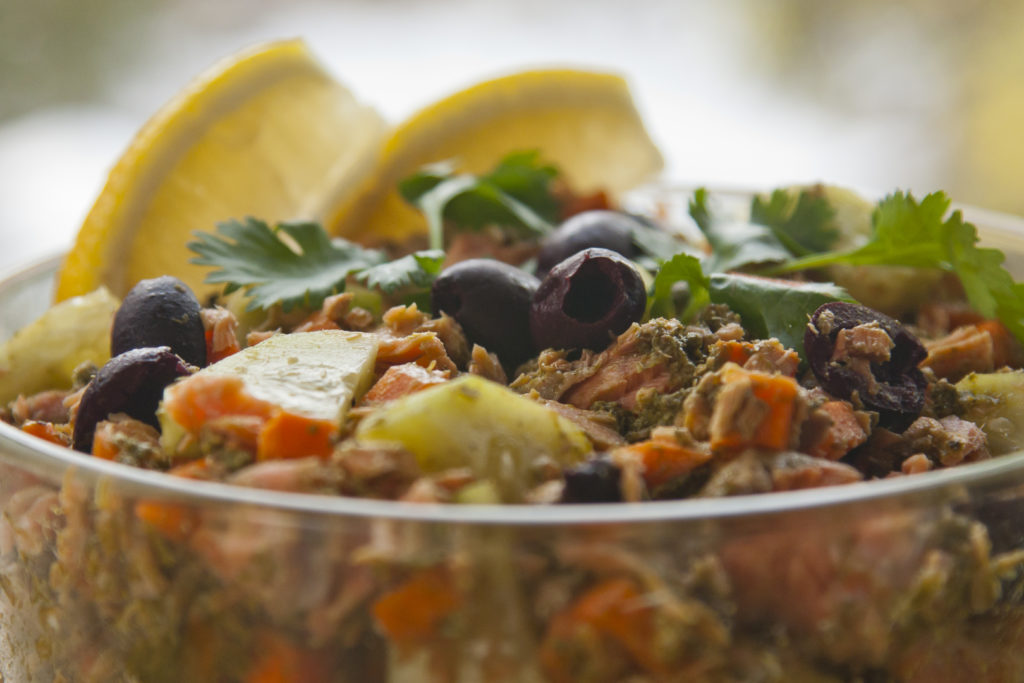 Nope, not the "Polyethnic Cajun Slamgrass" of one of my favorite bands from when I lived in Boulder, Colorado; although I still love their unique blend of bluegrass, rock, country, and Cajun/Zydeco and whatever other flavor from whoever showed up for an afternoon jam…
This name hails from my other most favorite place to live: Alaska—where salmon is another sort of ritual. We go fishing, get the biggest catch we can, freeze it, and repeat the ritual.
Right about now, we're clearing our freezers to make room for for this year's catch. Taking an amazing salad for lunch is part of the fun. Enjoy!
Serves 4
Ingredients
1 ½ pounds of wild-caught salmon (not an Alaska resident where catching salmon is part of life? It's OK to used canned salmon as long as it is *plain* and un-sugared; skip the baking steps:
¼ cup fresh parsley
1 lemon, seeds removed and juiced
2 medium carrots, peeled and finely chopped
1 cucumber, peeled, quartered and sliced thin
10 (or so) Kalamata olives, halved
1 tablespoon chopped parsley
3 tablespoons organic olive oil
2 teaspoon sea salt
Preparation
Preheat oven to 350o; prepare a baking dish by rubbing it with olive or coconut oil.

Puree the parsely, lemon, and 1 teaspoon of sea salt.

Lay the salmon fillet skin side down in the prepared baking dish. Spoon the pureed parsley over the fillet, cover and bake for 15 minutes (BTW: this baked salmon is delicious as a main dish)

Remove from oven and let cool enough to be touched.

Using a fork and your hands, flake the salmon into a bowl. Remove bones as you find them (there will always be bones).

Chop the carrots, cucumber and olives into the bowl. Mix in the lemon and salt to taste. Garnish with fresh parsely.

This keeps for a day when refrigerated although you might wait to add the cucumbers just before serving.
Yours in Health!
Copyright © 2017 Marie Sternquist. All Rights Reserved