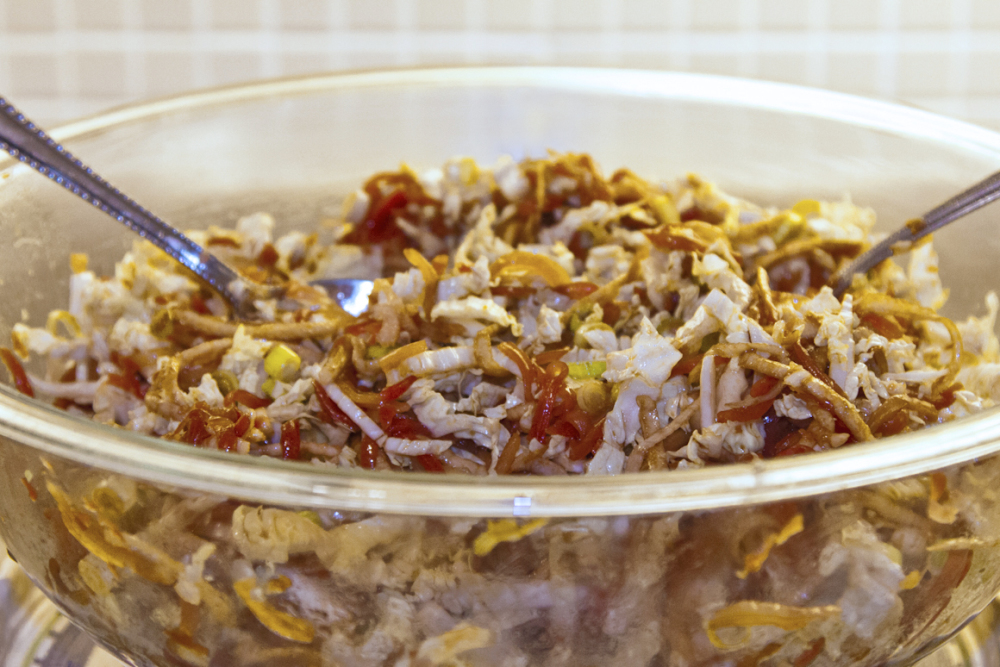 Get many thumbs up and smiles from family and friends with this extremely enjoyable combination of root veggies and flavors. Shhhhh don't tell them beet slaw is healthy. I wasn't sure what to name this… CSA Slaw? (in honor of the winter box of roots) nope. How about Gall Bladder Greatness (in honor of the beets, olive oil, cabbage), puleeeze! OK, then…
Well, I do use food therapeutically, why not? But it's OK to keep the health benefits secret and just enjoy the colorful presentation and, oh that taste so yummy.
Serves 8
Ingredients
4 large beets, boiled or baked, cooled and peeled (if you boiled your beets, try my Beet Juice Lemonade recipe  😛 )
1 turnip, peeled
½ head Napa cabbage very thinly sliced
1- red onion, thinly sliced
6 tablespoons olive oil
3-1/2 tablespoons balsamic vinegar
1 teaspoon dried white horseradish
1 teaspoon sea salt

Preparation
Earlier in the day or the day before, wash, trim, then wrap the beets in foil. Bake at 350 degrees for about an hour until tender with a fork inserted. Remove from the oven and let cool.

Grate the beets into a large salad bowl. A Cuisinart helps speed this up immensely.

Peel and wash the turnip and grate into the bowl.

Very thinly slice the Napa cabbage, you should have about 4 cups, and add to the bowl.

Add the sliced red onion.

Toss all the veggies together extremely well. The grated beet likes to clump so just separate it.

In a small bowl, whisk together the olive oil, balsamic vinegar, horseradish and sea salt. Pour over the salad veggies and quickly toss to coat.
Serve and smile

Copyright © 2014 Marie Cecchini Sternquist. All Rights Reserved