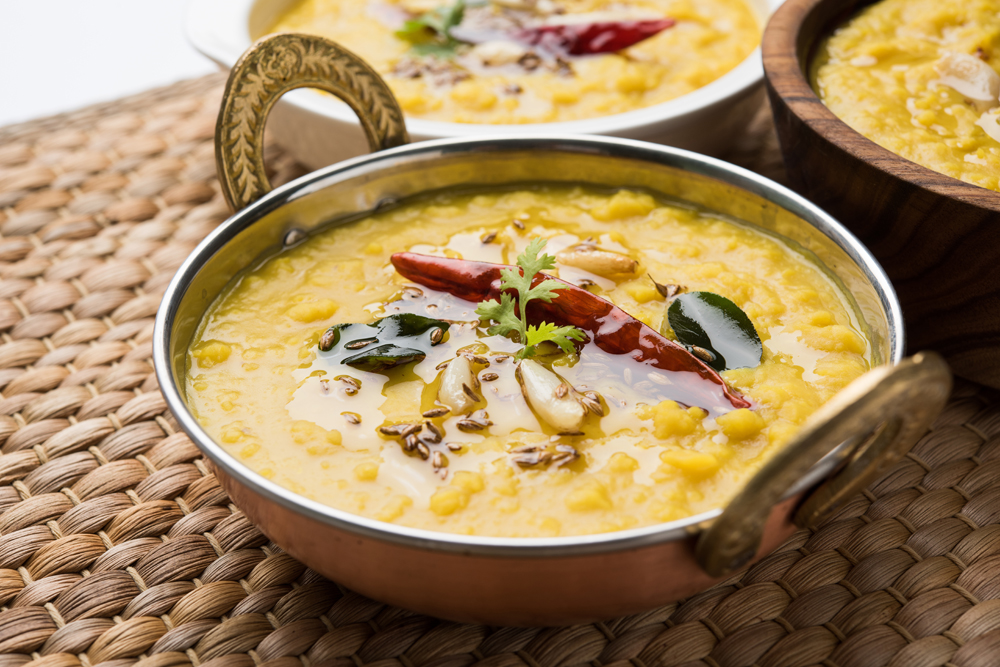 Bright and colorful, Ginger Dahl adds a festive highlight to any meal and warms your body from core to limbs. This savory, heartwarming Indian favorite is belly filling, provides comfort and calm, satisfies a big appetite without the calories and heavy carbs of other comfort foods.
Dal soups like this provide plenty of protein and ginger gets your blood moving and helps your digestion. The fibers in pre-soaked legumes (lentils or mung beans) improve digestive health. If you feel bloated after eating beans, try soaking them overnight with a bit of apple cider vinegar as described here.
Otherwise, enjoy!
Serves 6-8
Ingredients
2 cups dried lentils (yellow is traditional, mix with green or red for fun)
Spring or filtered water to cover and soak overnight
2 Tablespoons Ghee or olive oil
2 teaspoon dried cumin
1 teaspoon fennel seeds
6 inch section fresh ginger peeled and minced
½ teaspoon chili powder (less if prefer mild)
2 teaspoon mustard seed
1 teaspoon sea salt
1 teaspoon turmeric
3 whole tomatoes or 16 oz can fire roasted
1 quart chicken bone broth (or mushroom/vegetable broth for a vegan dish)
½ cup fresh cilantro, chopped

Preparation
Soak lentils overnight in spring water to cover.
In a large saucepan with a thick, heavy bottom (I love my seasoned cast iron cookware), heat oil and saute minced ginger with seeds and powdered spices until fragrant.
Add pre-soaked lentils and broth. Cook for 30 minutes to an hour until lentils are completely soft.
Lightly mash dal (or pulse some of it in a food processor—you want a mix of whole lentils and thick sauce).
Add tomatoes, adjust salt to taste and simmer for 15 minutes.
Garnish with fresh cilantro, nut milk yogurt… your choice.
Serve hot with any cooked vegetable dish or Pat's amazing tortillas (very simple and similar to Naan).