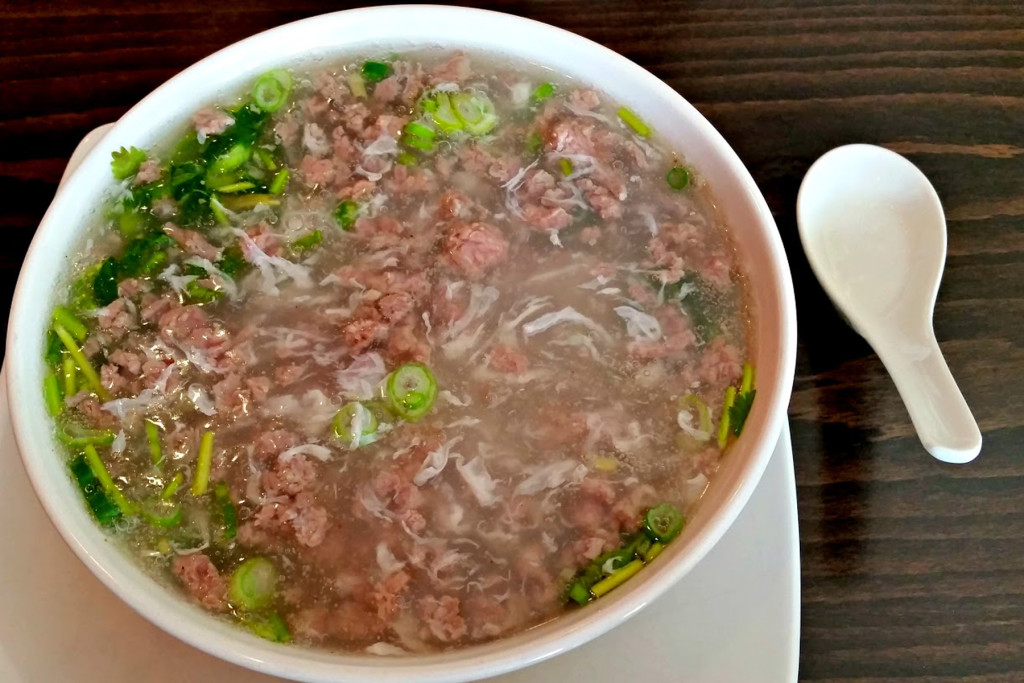 Many years ago I had the honor of working with a General of the Laotian army. Somehow, his wife had fallen severely ill (my Laotian isn't good enough to get the full details). While hospitalized, I gave her several assists and helped get the hospital staff to allow family members to bring in traditional healing food rather than feed her cafeteria "stuff." The family (and the doctors, actually) considered it a miracle when she recovered and threw a celebratory party in honor of all the helpful Gods.
I noticed the same combination of ground meat at the party that was brought to her while in the hospital. Larb. I fell in love. The combination of flavors and heat in all the versions.
"Larb" is traditionally served in a lettuce cup and I often make it as a wonderful and portable lunch. But today, I wanted ginger soup, soothing bone broth and the flavors of Larb.
Turned into a warm and distinctly flavorful soup, For the Love of Larb, is our new family favorite. It goes with us for lunch, makes a great breakfast… love it!
Ingredients
Bone Broth:
1.5 pounds of grass-fed beef bones: knuckle or marrow
2 tablespoons raw apple cider vinegar
water to cover
Special equipment: Crock pot
Larb Soup:
2-inch section of fresh ginger root, peeled and sliced
4 cloves garlic, crushed
6 tablespoons Asian fish sauce
6 tablespoons wheat-free organic Tamari
½ teaspoon crushed red pepper flakes
1 pound ground grass-fed beef
1 pound cremini or wild mushrooms, sliced
½ Napa cabbage, coarsely chopped into 1" strips
5 drops lime peel essential oil (Citrus latifolia)
½ cup fresh cilantro, chopped for garnish
½ cup sliced green onions
Special equipment: Magic Bullet

Preparation
Make the Bone Broth:
Put the bones and raw cider vinegar in a crock pot.
Add water to cover (enough for two inches above the height of the bones).
Turn to low heat and simmer 8 hours or longer—longer is better—skim off any froth but be sure to leave the fat.
Remove the bones and any marrow, meat or other from the broth. Place in a bowl to cool.
Keep the broth simmering in the crock pot on low.
Make the Soup:
Combine the sliced ginger, crushed garlic cloves, fish sauce and Tamari in the small container of your Magic Bullet. Puree completely and then add to the bone broth stock.
Sprinkle red pepper flakes over the broth.
Break off small pieces of ground beef, no bigger than a finger joint, and drop into the soup base.
Add the sliced mushrooms.
Allow to simmer 20 minutes or so until the beef and mushrooms are cooked.
While simmering, separate any marrow, softer cartilage, and meat bits from the cooled bones. Place in the Magic Bullet container. Toss the bones and any tough gristle. Puree the marrow until a creamy. Stir into the simmering soup by spoonfuls. As it contains quite a bit of protein, it will form more solid drops as it cooks; similar to egg whites.
Stir in the coarsely chopped Napa cabbage. Simmer another 10 minutes until the cabbage is wilted but not overcooked.
Stir in the lime essential oil.
Serve topped with chopped cilantro and sliced green onions.
Happy Holidays!
Copyright © 2016 Marie Cecchini Sternquist. All Rights Reserved