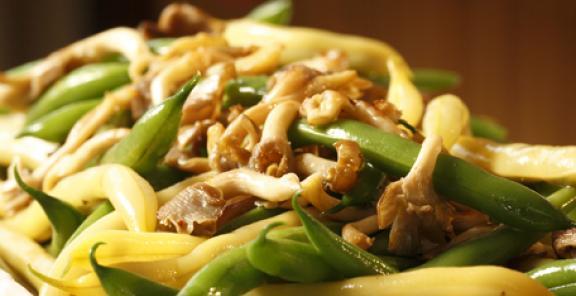 Elegant flavor; simple recipe
Serves 4
Ingredients
1 cup sliced wild mushrooms (shitake or oyster, for example)
½ onion sliced
1½ lbs fresh string beans, cleaned and ends removed
4 cloves garlic
egg-sized piece of fresh ginger, peeled
3 Tablespoons olive oil
2 Tablespoons butter
Preparation
Puree the garlic, ginger and olive oil in a food processor until the consistency of a nice sauce.
Add the butter to a skillet and melt over low heat.
Add the onions and cook through.
Add the mushrooms and sauté a few minutes.
Add the ginger and garlic sauce and string beans. Stir to coat the beans with the sauce.
Cover with a lid and simmer on low until the beans are just tender.

serve and enjoy!