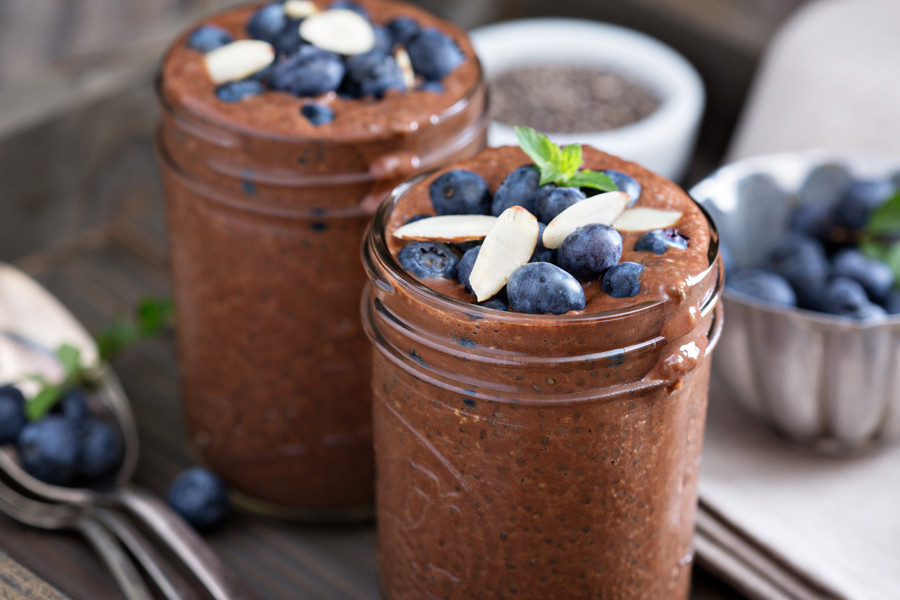 Chia seeds are loaded with antioxidants, plant-based protein, omega-3 fatty acids, and fiber. (So much fiber, in fact, that there is only one "net carb" per one-ounce serving!) This dish is lightly sweetened with dates but you can choose options like grade B maple syrup or coconut sugar. Please consider your goals and whether or not sweets belong in your health habits; if they can, occasionally, then dates, coconut, maple… are not toxic to your nervous system like cane sugar (all forms including organic turbinado, molasses, brown sugar…) you will still create blood sugar imbalances, but you won't disrupt your nervous system. And if dates aren't convenient for you, you can always use another natural sweetener, like grade B maple syrup or honey, if you prefer.
This recipe is easily adaptable, taste it as you go! Very quick to prepare, pour the pudding into individual serving dishes, top with blueberries, nuts, other fun things, and leave out for mouths to devour. It thickens up when chilled, and the rich chocolate flavor gets even better as it sets.
Serves 2
Ingredients
¾ cup almond milk or coconut milk kefir
2 tablespoons chia seeds
2 tablespoons raw cacao powder (or cocoa powder—which is roasted cacao—please make sure it is unsweetened)
2 Medjool dates, pitted
¼ teaspoon vanilla extract (optional)
fresh blueberries, almonds or other for garnish
Preparation
Blend all ingredients together in a Magic Bullet or similar high speed blender. Pour into serving dishes. Garnish. Done!
Personally, I like to put all my ingredients together the day before I want this dish. This allows the chia seeds to absorb water and become soft fibers that help our digestive tract and release more nutrients.


Enjoy!

Copyright © 2016 Marie Sternquist Cecchini. All Rights Reserved