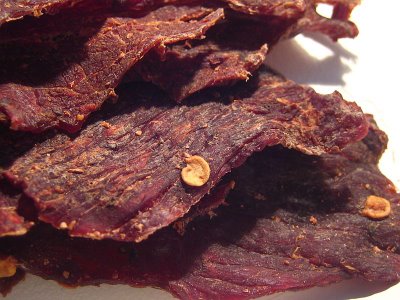 Yummm!!
That is really all I have to say. Well, and that this jerky has been a long tradition for me, my family, friends of my family…
…and the best news is that it has all things that are good for you. I've talked about how great maple syrup is (and how inflammatory the cane sugar is that is
used in commercial products). Plus, you can bet commercial products are made with nitrates, preservatives, artificial flavors and other toxic chemicals.
We love bison and buffalo and moose and venison… anything but the grain-fed feedlot animal used in commercial junk. Even if the marketing gurus have convinced most Americans to buy "grain marbled" beef, the truth is that the "grassy" flavor of pastured beef is preferred in blinded taste tests.
In fact, in 2010 research from California State University shows that beef from grass-fed animals has lower levels of unhealthy fats and higher levels of omega-3 fatty acids, which help cardiovascular and nervous system health (emotions, ability to concentrate, and more). Grass-fed beef also has higher levels of antioxidants like vitamins A and E that help prevent their fats from becoming rancid. The study found that meat from animals raised entirely on grass also had about twice the levels of conjugated linoleic acid, or CLA, isomers, which may have cancer fighting properties and lower the risk of diabetes among other health problems.
I love having healthy snacks around for those times when you just need something to get you through. Try this jerky and see how many times you have to double and triple the recipe 😉
Quality grassland meat products – Visit us Online!
Ingredients:

4 pounds grass fed beef or bison or moose or… sirloin is lovely
3 inch long piece of ginger root
4 cloves garlic
1 cup Tamari (wheat free and organic or it is probably GMO)
⅓ cup real Maple syrup
½-1 teaspoon crushed red pepper (to taste)

Preparation:
1. Thinly slice the beef or bison steaks. The easiest way to do this is to freeze the steaks and then let them just partially thaw before slicing with a very sharp knife.
2. Place the sliced meat in a bowl and set aside.
3. Peel the ginger and the garlic cloves. Cut the ginger into big chunks.
4. Place the ginger chunks, garlic cloves, Tamari, maple syrup, and crushed red pepper flakes into a Magic Bullet or food processor, thoroughly blend together.
5. Pour the marinade over the meat strips and marinate at least overnight, remixing occasionally to make sure all the strips become nicely flavored.
6. Spread the slices onto dehydrator trays; do not overlap the slices.
7. Put the dehydrator on a medium setting, about 120o.
8. After about 4 hours, rearrange the trays so that the heat is evenly distributed and continue drying. Let dry at least overnight and may take 24 hours.
9. When dry (they do not need to be crispy, can still be moist and chewy to your preference), remove the slices from the trays and place in ziplock bags to store (after sampling, and obtaining accolades, and assuming any are left…).
Copyright © 2011 Marie Sternquist. All Rights Reserved