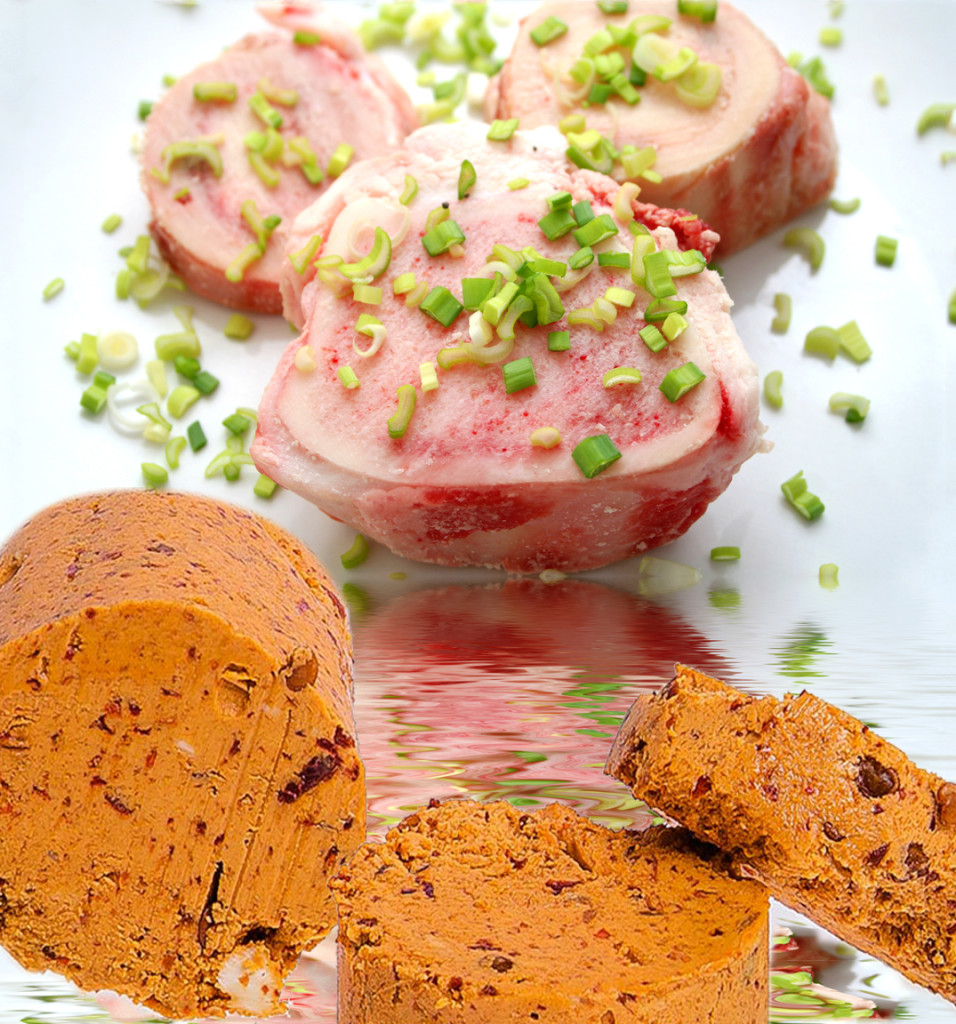 Nearly a year ago I enjoyed dinner with my research collaborator Rik and his health coach wife Karen at her brother's Little Sparrow Cafe in Santa Ana. Given the healthfulness of my company, I just let the chef surprise me. This really isn't an advertisement for the Little Sparrow, but if you do find yourself in the Santa Ana area you honestly owe it to yourself to venture in; definitely make reservations (which you can even get online).
Why? Because this refreshing locale serves up the unusual and traditional in the freshest and most scrumptious way.
See, bone marrow has been lauded for its health benefits for centuries by nearly every culture in the world. In Chinese cooking, bone marrow is thought to support the chi and nourish the kidneys, and is often served in the form of rich broths. Marrow bones are used to make pho in Vietnamese cooking, Italian osso buco, French pot-au-feu, German Markklößchen, Philipino bulalo, South Asian nalli nihari — the list goes on and it's seeing a resurgence in fancy restaurants served as a whipped "butter"!
Nutrient-dense marrow contains collagen for improved joint function, easily digestible forms of zinc, phosphorous, calcium, and iron. It is a great source of omega-3 fatty acids (if from grass-fed cows), other healthy fats and Vitamin A. Marrow has been shown to boost immunity and wound-healing, support brain and hormone function, and aid in digestion by rebuilding damaged intestinal lining.
You don't need much and it is so ridiculously tasty, satiating… or at least the way I made them the marrow butter was amazing. Make sure your bones (and meat or that matter) are 100% grass fed and never even grain finished. This is important.
But what brings this recipe out today is that I decided to experiment with peppers, the Little Sparrow's version didn't have these. See, my friend, co-health-coach and partner in all food healthy Phyllis is sending all the way to my home in Anchorage some bonafide actual real chilis from Chili Season in her home of Albuquerque, NM. I can hardly wait! And it's time to start experimenting for this year's Holiday Recipes… (smiles).
Makes about a cup, depending on your bones
Ingredients
2 pounds femur bones, canoed, or thin marrow bones (you want about half a cup of marrow)
1 tablespoon fresh parsley, minced
1 head of garlic
1 tablespoon extra-virgin olive oil
1-3 roasted chipotle chiles depending on heat and personal tastes
¼ teaspoon oregano
¼ teaspoon thyme
¼ teaspoon cumin
¼ teaspoon cinnamon
pinch allspice
pinch cloves
Salt and pepper, to taste
Squirrel bread and lemon wedges for serving (optional)

Preparation
Heat oven to 400°.
Place canoed marrow bones, marrow side-up, on a roasting sheet lined with tinfoil and roast for 25 minutes (less for thin marrow bones). Cool
 Cut ¼ inch off the top of the head of garlic to expose the cloves. Drizzle the garlic with olive oil and wrap tightly in foil. Transfer to a small baking dish and bake until the cloves are very soft, 30 to 40 minutes. Remove from the oven and let cool.
When the garlic cloves are cool enough to handle, squeeze the cloves into a small food processor.
When the bones have cooled enough to handle, scoop the marrow out into the processor (Save your bones to make stock! It will still be hearty without the marrow).
Add the chiles, spices and salt then pulse until smooth.
Using a rubber spatula, mound the butter onto a piece of parchment paper and roll it to form a cylinder. Twist the ends of the cylinder, then chill until firm, about 1 hour.
Butter can be made and stored in the fridge for 2 weeks or frozen for up to 3 months.
The Chipotle and spice flavors are not usually very hot but are robust enough to spread it on slices of Squirrel Bread and I like it with a squeeze of lemon.
Copyright © 2014 Marie Sternquist Cecchini. All Rights Reserved