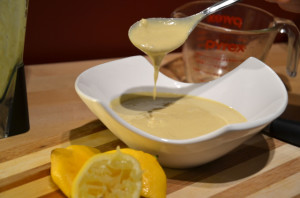 I am writing this for my friend Geraldine with whom I just had a delightful lunch on a beautiful Anchorage fall day. This year's mix of warm Indian summer days with everlasting fall colors and just a sprinkling of snow on the top of the mountain peaks, wow. Very special.
I'm still inclined to think it is summer and so do the local farmers with their abundance of good-for-you and tasty greens this year. So, a salad it is. And when I had the chef's tahini dressing, I just knew I was going to have to develop my own version of it at home.
Here it is. Thanks for lunch Geraldine! It is always nice to enjoy great food with a great friend. Much Love.
Makes 1-1½ Cups
Ingredients
¾ cups sesame tahini
5 tablespoon fresh lemon juice,
1 small clove garlic, minced
¾ – 1½ cups water
Cayenne to taste

Preparation
1. Place the tahini, lemon juice, and garlic in a Magic Bullet or food processor fitted with the steel blade. Begin to process.
2. Add ½ water and blend thoroughly, carefully monitor the consistency and continue to add water, small amounts at a time until it is as thick (spreadable) or thin (dressing or sauce) as you like.
3. Transfer to a glass storage dish and season to taste with salt and cayenne. Cover tightly and refrigerate until ready for use.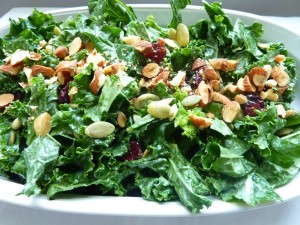 We've repeatedly enjoyed this sauce over garden-fresh steamed vegetables (all kinds), on salads, as an alternate to Hummus and we keep finding new ways to use it because we make enough to keep in the refridgerator a couple of weeks.
Enjoy!
Copyright © 2011 Marie Sternquist Cecchini. All Rights Reserved