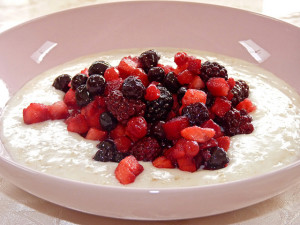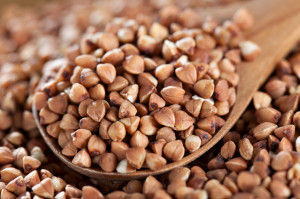 Buckwheat is the perfect food whether you are trying to restore gut health, heal Candida, or just get a good morning protein source without the carbohydrates. Buckwheat groats are not a cereal grain and do not have the liabilities of causing high cholesterol, sugar imbalances, weight gain, and everything else discussed in this post, and this one…
This simple breakfast is very satisfying, it takes just minutes to prepare, and there is no need to cook the buckwheat unless you want a creamier texture.
Serves 4
Ingredients

2 cups raw Buckwheat Groats, (note: this is not the same as Kasha) soaked in water overnight
1 ¼ cups almond milk
2 tbsp golden flax or chia seeds (optional)
Pinch of sea salt (or Kosher)
1 tsp pure vanilla extract
1 tsp ground cinnamon



Preparation
1. Place raw organic buckwheat groats and 4 cups of water in a bowl. Soak overnight. After soaking, rinse well in a strainer several times.
2. Place the rinsed buckwheat groats and almond milk in a saucepan. Bring to a boil then reduce the heat to simmer for 8-12 minutes until tender.
3. Pour the cooked groats into food processor or blender, along with the almond milk, flax or chia seeds, salt and vanilla. Process until combined and slightly smooth.
4. Add in the cinnamon to taste.
5. Scoop into four bowls or parfait glasses and add your desired toppings & mix-ins.
6. Serve immediately but leftovers will store refrigerated for a few days.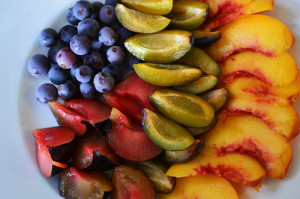 Toppings
½ cup chopped nuts (almonds, cashews…)
½ cup fresh berries
one sliced peach
real maple syrup if you must.
Copyright © 2012 Marie Sternquist Cecchini. All Rights Reserved