Toni Rae sent over this amazing oatmeal substitute; breakfast recipe with quinoa that she created while doing the Rejuveo Cleanse. If you are looking for a quick and healthy breakfast with the hot cereal concept, check this out. Don't like quinoa? (or quinoa doesn't like you?) Substitute raw buckwheat groats and follow the exact same directions.
After browsing several recipes for various healthy alternatives to oatmeal, I decided to do something different for breakfast. It brought me back to my childhood, as I ate a lot of cereals. I had to share, it was soooo yummy, and I'm not typically too keen on quinoa. —Toni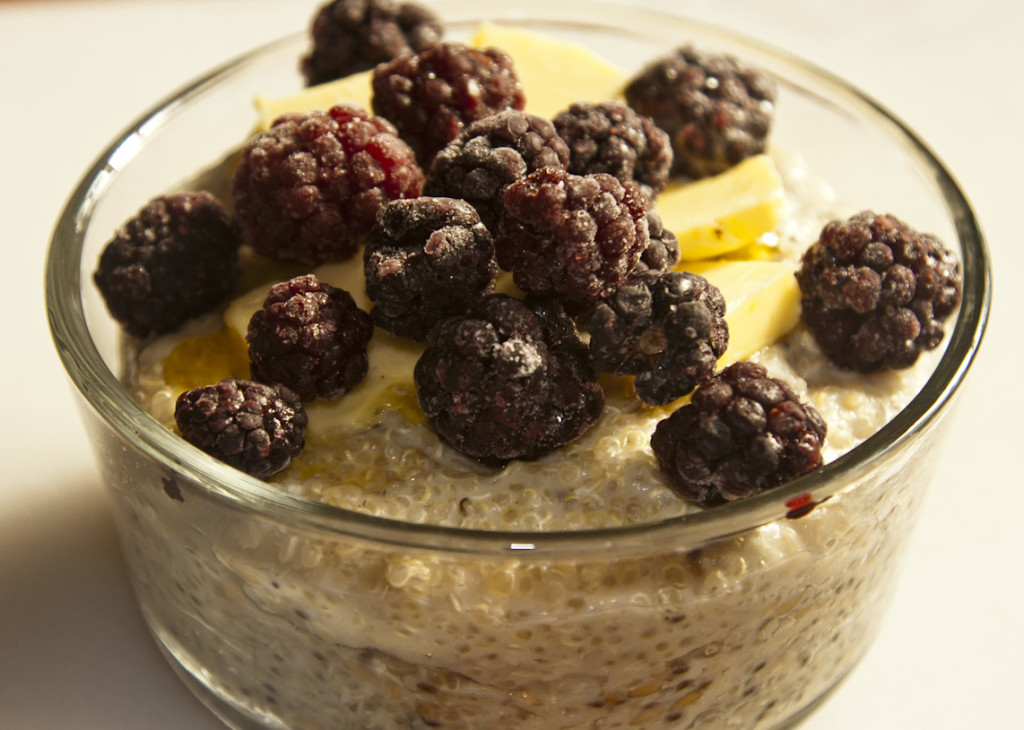 What is Quinoa? (KEEN-wah)
Isn't it a grain? Don't we want to Get Off The Grain Train? Definitely read my posts on that here and here.
Related to beetroots and spinach, quinoa is a nutritious, delicious, gluten-free pseudo-grain. I love eating quinoa, but it truly needs to be soaked and rinsed well or that can upset your digestion. Although it is softer on digestion than almost any other pseudo-grain (and far less problematic than cereal grains like wheat, oats, corn… ) it is very important to rinse off the bitter saponins that coat the seeds and sprout it to remove phytic acid (which I discuss here). You can soak large batches of it, and then reheat it as needed.
What are saponins?
While most of the saponin is removed from commercial available quinoa, there are still residues to address. Saponins are a family of bitter-tasting compounds that benefit the plant by protecting the seed from insects and animals. Some saponins are antioxidants and not bad, while others act as phytoestrogens (estrogens from plants). As a surfactant, like most detergents, saponins help various things dissolve in water by breaking up oily, fatty residues.
But saponins can be a major anti-nutritional factor and unless removed can cause digestive upset, act as an eye irritant and more. Fortunately, saponins are found primarily on the seed surface and therefore can be soaked and rinsed away. Soak them overnight and then rinse the seeds in a sieve until the water runs clear.
Yields 2 servings
Ingredients
1 cup rainbow quinoa or buckwheat groats, soaked overnight in 1 cup filtered water—rinsed extremely well in clean water.
2 cups almond milk (homemade or Silk unsweetened.)
1 cup soaked pumpkin seeds
¼ cup flax seeds
¼ cup chia seeds
½ cup coconut milk or almond milk kefir
dash of cinnamon
dash of vanilla
1 tsp minced ginger
½ cup unsweetened shredded coconut
pasture butter, berries, yogurt…

Preparation

1. Put the quinoa or buckwheat and filtered water to cover in a glass, non-reactive bowl.
2. Place the pumpkin seeds, flax seeds and chia seeds in a different bowl and add filtered water to cover.
3. Let these stand on the counter overnight or longer.
4. Drain the quinoa using a fine sieve and continue to run clean water over it until it runs clear.
5. Put the quinoa, almond milk, cinnamon, vanilla, and ginger into a saucepan and bring to a boil, then reduce heat to low and simmer another 15-20 minutes. Turn the heat off and cool enough to handle.
6. Drain and rinse the soaked pumpkin, flax, and chia seeds.
7. Put all the ingredients in your Magic Bullet or food processor and blend well.

Top with berries and butter, coconut milk yogurt, Nomnomnom
Copyright © 2014 Marie Sternquist Cecchini. All Rights Reserved