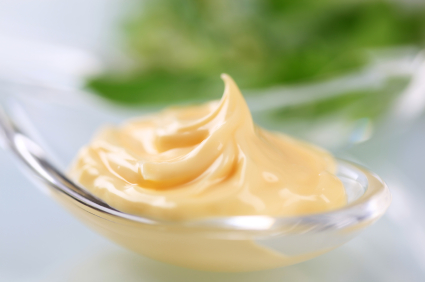 Some of us have the idea that mayonnaise is unhealthy; most don't know why. Almost all store-bought mayonnaise sneaks sugar and inflammatory seed oils into your diet–even the "made with olive oil" has canola or safflower as the first oil on the ingredients list and, well, that is just bad news from a transfat and unhealthy fat standpoint.
Don't eliminate good mayo from your diet. Just make it. It's very easy. Master this simple mayonnaise recipe and enjoy the taste and nutritional benefits of real mayonnaise.
Makes ½ Cup
Ingredients
1 egg yolk
½ teaspoon powdered mustard
1½ teaspoon fresh lemon juice
¼ cup olive oil
¼ cup coconut oil

Preparation
1. Coconut oil is naturally solid at room temperature. Place the jar of coconut oil in a pan of hot water; heat to melt enough oil for this recipe.
2. While the oil is heating, use a Magic Bullet
or food processor to blend egg yolk, mustard, and lemon juice for around 30 seconds. (I use the 1 Cup Magic Bullet
container; just pop the lid on it and use it for storage too.)
3. Add half the olive oil to the egg mixture and pulse to blend.
4. Add remaining olive oil and pulse—the point of pulsing in batches is to emulsify the oil and egg mixture so it does not separate.
5. Add half the coconut oil and pulse.
6. Repeat with the final amount of coconut oil. As the coconut oil returns to room temperature, the mixture will thicken and the consistency become perfect.
Variations
Use as a base for dressings, marinades, more…! Add 1 teaspoon curry powder and ½ teaspoon paprika to make a zesty curry dip. Shown here with lox and capers on cucumber slices. Enjoy!!