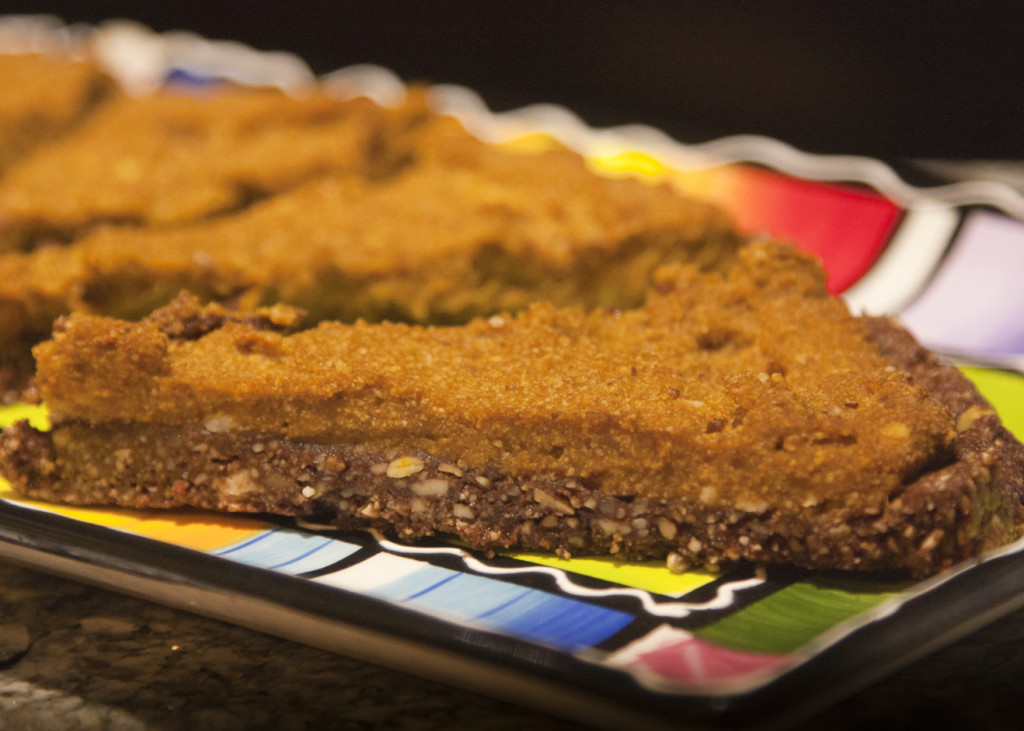 This elegant and amazing pumpkin desert is light and not too sweet with surprising combinations of chocolate and traditional pumpkin pie flavors.
Serves 8-12
Ingredients
Crust:
1 cup raw cashew pieces
1 cup raw pumpkin seeds
½ cup raw pecan pieces
¼ cup coconut sugar
¼ cup raw cacao powder or unsweetened cocoa powder
¼ cup organic coconut oil, melted
2 tablespoons maple syrup

Pumpkin Chiffon layer:
1¾ cup cooked pumpkin or 15-ounce can (NOT pumpkin pie filling)
⅓ cup coconut cream*
⅓ cup coconut sugar
⅓ cup virgin coconut oil, melted
1 tablespoon coconut flour
2 teaspoons ground cinnamon
½ teaspoon ground ginger
¼ teaspoon ground allspice
¼ teaspoon sea salt
*the easiest, least expensive, source of coconut cream is obtained by chilling a can of coconut milk and allowing it to separate into a near-solid top layer–this is the coconut cream–and liquid underneath. Taste of Thai brand is particularly reliable–do NOT buy "lite" which is just more water. After you remove the small amount of coconut cream for this recipe, mix the balance of what is in the can and you now have "lite" coconut milk.

Preparation
Make the crust:
Preheat the oven to 400ºF. Line 2 baking sheets with parchment paper.
In a Magic Bullet or food processor fitted with the steel blade, combine the cashews, pumpkin seeds, pecan pieces, coconut sugar, and cacao or cocoa powder. Process until finely ground, about 30-45 seconds.
Add the coconut oil and maple syrup. Process to combine, about 15 seconds.
The mixture should hold together when pinched with your fingers. Divide into two equal portions.
Place a ball of crust mixture on each parchment-lined baking sheet. Using your hands, press the dough into a circle about 8 inches in diameter leaving the edges just slightly higher than the base of the pie.
Bake the crusts for 10 minutes. Set aside to cool.
Make the Pumpkin Chiffon:
In batches in the Magic Bullet, or in a food processor, combine the pumpkin, coconut cream, coconut sugar, coconut oil, coconut flour, cinnamon, ginger, allspice, and salt.
Process until completely smooth. (If blending in batches, put each into a mixing bowl and mix completely before going on to the next step.)
Divide the pumpkin chiffon evenly between the 2 baked crusts. Spread out evenly and refrigerate until firm, 3-4 hours. Keep refrigerated until ready to serve.
Serve topped with Dr. Greg's famous vanilla ice-cream. Amazing!