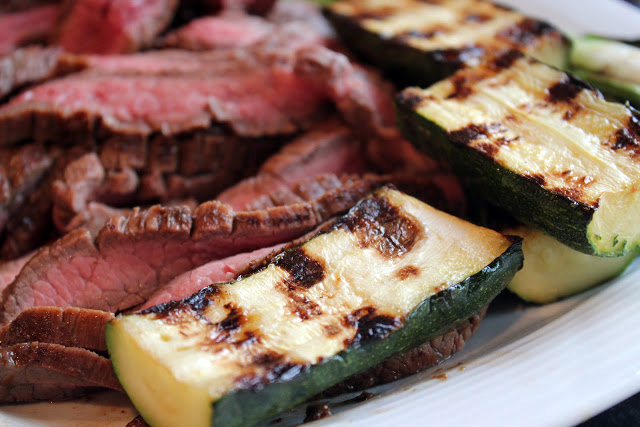 Grass fed or wild caught is hands down better for so many reasons. Our Nutrition Kitchen uses US Wellness Meats or seek out your local ethical rancher.


US Wellness Meats sells quality grassland meat products – Visit Online!
Family farms are hand picked for ethical practices and true free-range grazing. Shipping anywhere in the US is Free (small $9.95 handling charge) with $75 order.
Serves 4
Ingredients
½ cup balsamic vinegar
1 tablespoon whole-grain mustard
2 garlic cloves, minced
½ tablespoon dried oregano
1 teaspoon crushed dried rosemary
½ cup extra-virgin olive oil, plus more for grilling
Coarse sea salt and ground pepper
1½ pounds skirt steak
grill & oil

Preparation

1. In a In a Magic Bullet or blender, combine the garlic, rosemary, oregano, mustard and vinegar and puree until the garlic is minced. Gradually add the oil; pulse in between additions (or leave the blender on) until creamy. Season lightly with salt and pepper.
2. Pierce meat all over with a fork; add to marinade, and turn to coat. Let marinate at room temperature at least an hour (OK – the truth is that I have gotten away with 15 minutes), or cover and refrigerate up to 1 day.
3. Heat grill to med-high; oil grates.
4. Remove steaks from marinade, allowing excess to drip off. Grill steaks 2 to 4 minutes per side for medium-rare.
5. Transfer to a plate; cover loosely with aluminum foil, and let rest 5 minutes.
6. Slice and serve
serve and savor!

Copyright © 2014 Marie Sternquist. All Rights Reserved