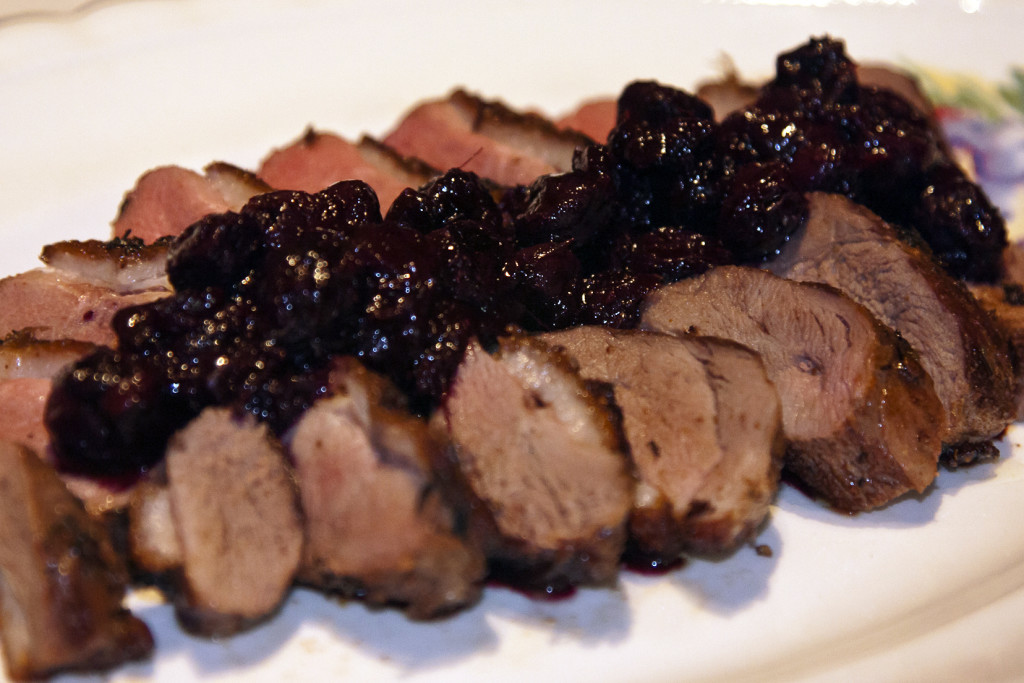 Amazingly simple, this Holiday duck recipe combines flavors of blueberry chutney and pan-fried potato rosti to create a unique taste sensation. Yes, it takes a little coordination and timing for the potato rosti, but there is nothing difficult and you can make all but the duck ahead. Serve up this holiday duck recipe on your next special occasion for a tender and tastefully satisfying meal.
Serves 4
Ingredients
Pan-seared duck:
4 duck breasts
1 tablespoons paprika
1 tablespoons salt
1 tablespoons garlic powder
½ tablespoon black pepper
½ tablespoon onion powder
½ tablespoon cayenne pepper
½ tablespoon dried leaf oregano
½ tablespoon dried thyme
Special equipment: a 6-8 inch cast iron pan
Blueberry Chutney:
10 ounces (~2 cup) fresh or frozen blueberries
1½ tablespoon lemon juice vinegar
2 teaspoons peeled & minced ginger
¼ teaspoons sea salt
¼ teaspoons ground cinnamon
¼ teaspoons crushed red pepper (more if you like it spicy)
pinch ground cloves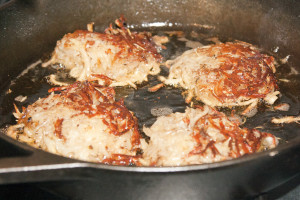 Potato Rosti:
4 Yukon Gold potatoes
½ stick pasture butter, melted
2 tablespoons chopped fresh rosemary
1 tablespoon kosher salt
1 tablespoon freshly ground black pepper
Duck fat, for frying (use what comes off the duck breasts)
Special equipment: a 12-16 inch cast iron pan

Preparation
Make the Chutney:
Place all chutney ingredients in a small sauce pan, bring to medium heat until just begins to bubble. Reduce the heat to low and simmer for 45 minutes or until thickened, stirring occasionally to prevent scorching. Cool to serve. Chutney can be made ahead and stored up to two weeks.
Make the Duck and Potato Rosti:
Preheat the oven to 400 degrees F.

Sprinkle both sides of each duck breast with the herbs and spices. Set aside.

Grate the potatoes. Squeeze out excess liquid using your hands—much like wringing out a sponge. Toss the potatoes with the melted butter, rosemary, salt, and pepper. Set aside.

Add the olive oil to the small cast-iron skillet. Warm over medium heat.

When the oil is hot, add the duck breast, skin side down. Sear for 6 minutes.

Pour the duck fat off into the larger cast iron skillet to cook the rosti. Place over medium heat.

Flip the duck breast over and place the entire skillet in the oven to roast for 8 to 10 minutes for medium rare (less time if breasts are smaller).

Drop potato mixture into the warmed duck fat making small ¼-inch thick or so cakes. Simmer the rosti in duck fat until golden brown, about 5 minutes. This is about when the duck breasts are done baking—pour into the rosti skillet any additional duck fat from the baked breasts. Set the duck aside to rest 2 to 3 minutes.

Flip the rosti in the pan and add more duck fat. Continue cooking until golden and crisp. If making large batches, you can place the finished rosti onto an unlined baking sheet and continue cooking the rest of the potato mixture. Reheat rosti in a 400 degree F oven for 10 minutes.

Slice each duck breast, on the bias, into ½ inch slices. Arrange with blueberry chutney on a serving platter and serve with potato rosti and a green salad. Very elegant.
Happy Holidays
Copyright©2015 Marie Cecchini Sternquist. All Rights Reserved