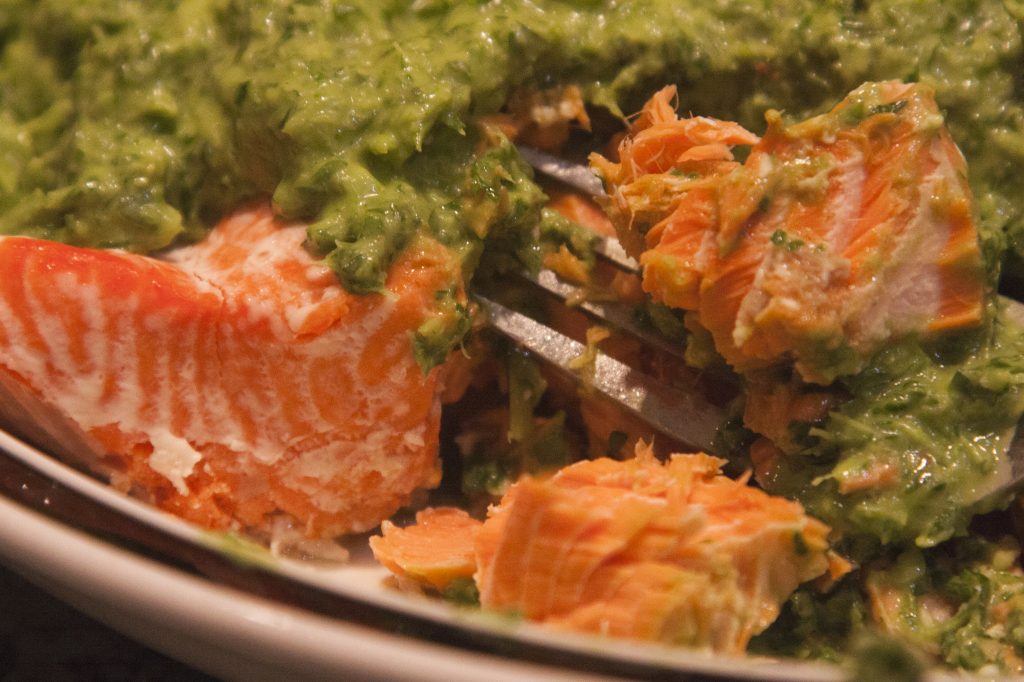 Born of Argentinian tradition, Chimichurri is one of the most delicious and versatile sauces around. Usually served with steak during traditional Andean celebrations but my first experience was about as far from the Peruvian highlands as you might imagine: Cordova Alaska. But since Alaska is known for our amazing, fresh and healthy fish—why not?
Cilantro brings tothe table boh anti-oxidants and metal-eliminating benefits (especially good for lead and mercury).
You'll likely develop your own proportions in this recipe. Some people prefer more garlic, some prefer only parsely, some add fresh tomatoes. Experiment and come up with your own signature sauce.
Serves 4
Ingredients
Chimichurri
2 cups fresh parsley and/or cilantro, firmly packed
¼ cup fresh oregano leaves (optional)
3-6 cloves garlic, crushed
2 Tablespoons chopped onion
½ cup extra-virgin olive oil
1 Tablespoon lime juice
2 Tablespoons red wine vinegar (optional)
Kosher salt and red pepper flakes to taste
Poached Salmon or Halibut:
4 4oz filets
2 Tablespoons pasture butter
sea salt & pepper to taste

Preparation
Pulse the garlic and onion in the food processor until finely chooped.

Add the parsley and/or cilantro (and oregano if using) and pulse briefly until chopped.

Transfer the mixture to a separae bowl. Add olive oil, lime juice, vinegar (red pepper flakes…) and mix well.

Store in the refrigerator until ready to serve.

Preheat the oven to 350 degrees F.

Butter a medium baking sheet and arrange the halibut or salmon filets. Dot with butter and cover with foil.

Bake 15-20 minutes depending on thickness until the fish is easily flaked with a fork.

Remove from oven and transfer to serving dishes.

Top fish with chimichurri and enjoy.
 Copyright © 2014 Marie Cecchini Sternquist. All Rights Reserved