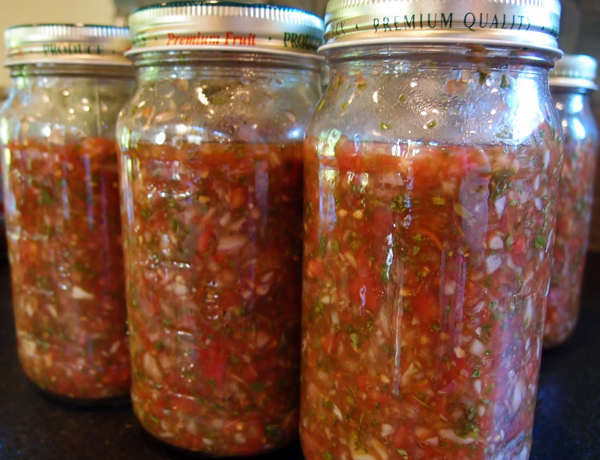 Della gets a blue ribbon for this submission to our 2014 Recipelooza! This recipe is so easy and is what got me over my long-lasting concern over making cultured food at home. Maybe I still had some false data from the "pasteurize-everything" folks. In any case, the gut-healing probiotics and incredible taste are well worth the parboiling, cutting and chopping.
Yields about 1½ quarts
Ingredients
9 medium-large tomatoes, peeled—see below
1 green and 1 red pepper, seeded and finely chopped
2 large onions, finely chopped
2 poblano peppers, finely minced
8 cloves garlic, crushed and finely minced
Juice of 2 lemons
1 Tablespoon dried oregano
2 Tablespoon dried cilantro
2 Tablespoons Sea salt

Preparation
Wash 8 tall jelly or 6 pint jars and allow to completely dry before starting. It is best to use new lids; check for dents.
To peel tomatoes, bring a small pot of water to a boil. Using a slotted spoon, dip each tomatoe into the boiling water for about 5 seconds. The skin will crack and begin to peel, remove it. If it doesn't come off easily, re-dip it in the boiling water.
Dice the peeled tomatoes and place in a large bowl. Include any juice and seeds.
Add all remaining ingredients and mix well. The mixture should be a little soupy. If it is too thick, add ¼ cup filtered water.
Transfer the mixture to the jars, pressing down to pack it in. A canning funnel helps. Leave an inch from the top of the salsa to he top of the jar.
If you have extra—just rename it Pico de Gallo and eat it right away.
Using a dry cloth or paper towel, wipe clean the rim of each jar. Place the lid and tightly seal.
Keep at room temperature for two days before transferring to your refrigerator. The salsa gets much better with age but officially makes the Pico de Gallo to Salsa transition after two.
Do not freeze; an unopened jar in the refrigerator keeps well.
Note: If on opening it does smell bad don't eat it. Most likely it wasn't properly sealed.
Copyright © 2014 Marie Sternquist Cecchini. All Rights Reserved