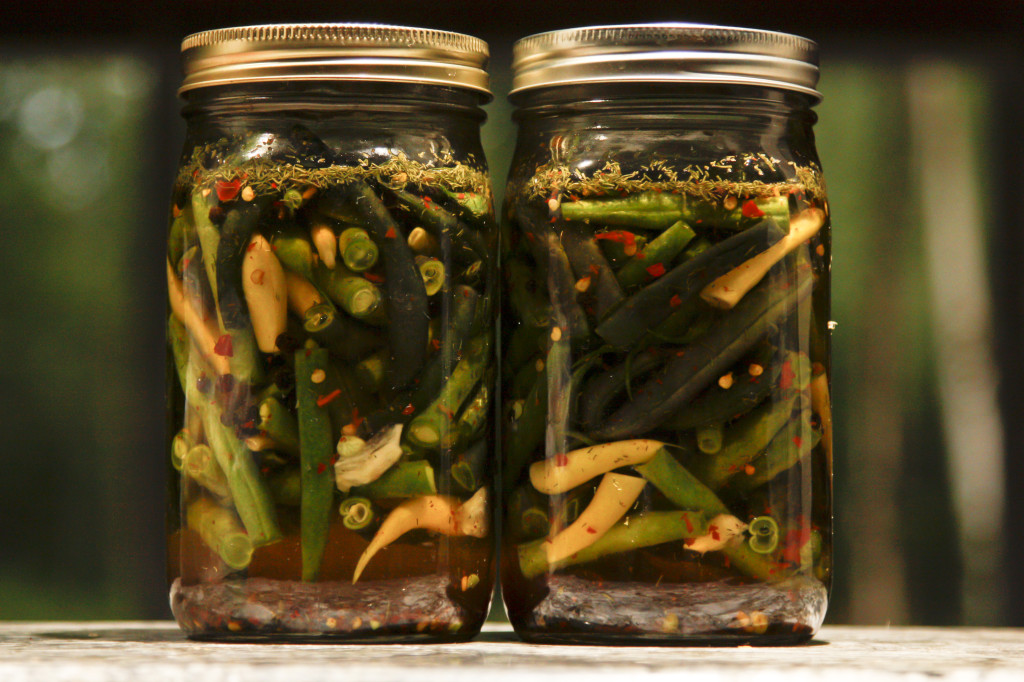 Another Fermentapalooza prize winner, they are amazing!!
My wonderful garden gave me quite a lot of extra string beans of all colors. In less than five minutes I trimmed the beans, cut them in half, and put them in jars with brine and spices. Done.
I used to have dilly beans on my sojourns to Vermont with my family. It's traditional to transform green beans into tangy, crunchy, flavorful snacks and side dishes. But why anyone would take the time to make the distilled vinegar (now GMO corn), sugar and water-bath canners version is beyond me. A much easier, more nutritious and healthy way to make dilly beans is to lacto-ferment them.
Lacto-fermentation is the conversion of natural fibers (short chains of sugars) in the beans into lactates. The healthful bacteria that do this provide their own digestive enzymes. When we eat lacto-fermented foods, the probiotics miraculously live through the acid in our stomach to continue digesting the food as it makes its way into our intestine where they'll take up residence. We need these helpful bacteria to feel good. They help us with everything from proper blood pressure, to skin health, to absorbing calcium and magnesium so we can have strong bones and muscle tone.
So the next time you have an abundance of green beans, make this delightful and oh-so-simple lacto-fermented dilly bean recipe. Good tasting and good for you.
Yields 2 quarts
Ingredients
2 Tablespoons sea salt
1 quart filtered water
1 pound young green beans trimmed and cut into two pieces if long
4 garlic cloves, peeled and smashed
2 handfuls of fresh dill, flowering heads preferred and in a pinch substitute with 2 teaspoons dried
2 teaspoons red pepper flakes, or to taste (note: Bob & Judy wrote "Tablespoons" I was not brave)
1 teaspoon black peppercorns

Preparation

1. Make the brine by stirring 2 Tablespoons of sea salt into the quart of water. Set aside.
2. Divide the green beans, garlic and dill between the two quart jars.
3. Press the beans into the bottom without breaking them. Or if you've left them long simply stand them up (this is easiest if you lay the jars on their side and stack the beans.)
4. Sprinkle the peppercorns and red pepper flakes over the top.
5. Pour in the brine to cover up to one inch from the top of the jar.
6. Seal the jars tightly with a lid and place somewhere that will stay between 60-80oF for the next 3-10 days.
7. Check the jars daily. Push the beans back down below the top of the brine and sample to see when it has fermented to the flavor you like (it gets tangier but less salty with time).
8. When done, transfer to your refrigerator.
Copyright © 2014 Marie Sternquist Cecchini. All Rights Reserved