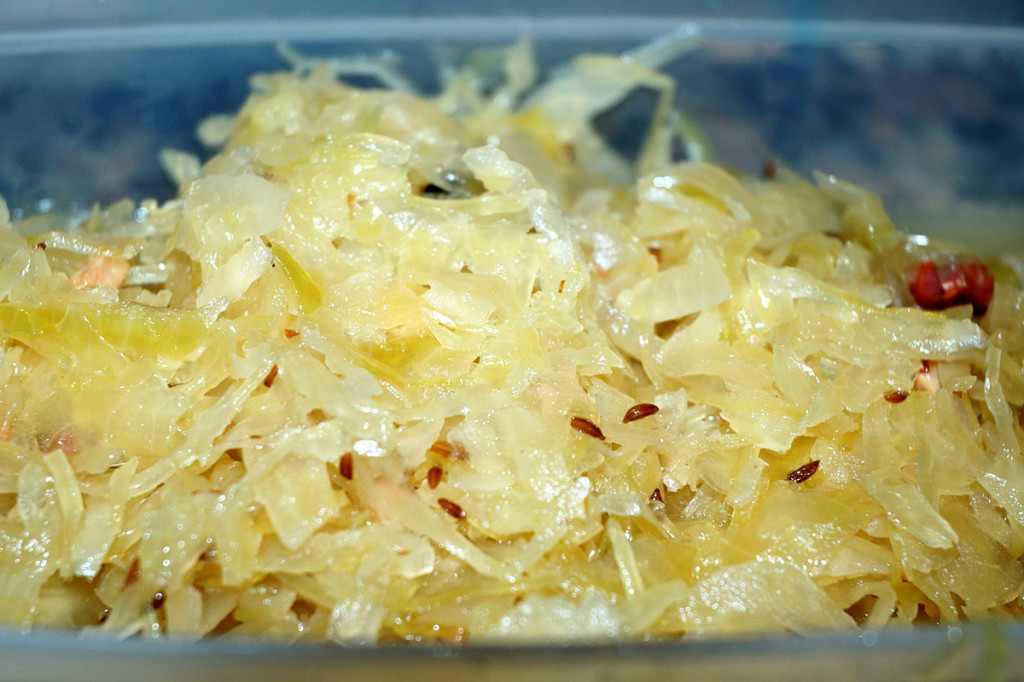 Judy and Bob also received a 2014 Recipalooza blue ribbon for their oh-so-simple twist to traditional sauerkraut. Eating just a little cultured or fermented probiotic food each day makes a world of difference to the friendly, helpful, flora in your gut. This is especially true if you've recently been sick.
Yields about 2 quarts
Ingredients
2 medium-sized heads of cabbage, cored and shredded
5 cloves garlic
1 Tablespoon Sea salt
(optional) 4 teaspoons of "starter"— juice from your last batch

Preparation
Wash 2 wide-mouth jars and allow to completely dry before starting. It is best to use new lids; check for dents.
Combine all ingredients in a large non-metal mixing bowl. Toss well including pounding some with your fists to bruise.
Cover and let sit on the counter for half an hour or so to allow the salt to pull the juices out of the cabbage. Stir and pound it occasionally as it sits, very therapeutic.
When the mixture is nice and juicy, scoop it into two clean wide-mouth jars. Make sure to press the kraut below the level of the juices and leave an inch to the top of the jar.
You may add a few teaspoons of "starter" or even raw, unpasteurized cider vinegar but this is completely optional.
Cover the jars and seal tightly. Let sit at room temperature for about a week until the sauerkraut is bubbly and fragrant. Then store refrigerated.
Variations
I added 1 Tablespoon caraway seeds and really enjoyed the blend of flavors.
Copyright © 2014 Marie Sternquist Cecchini. All Rights Reserved