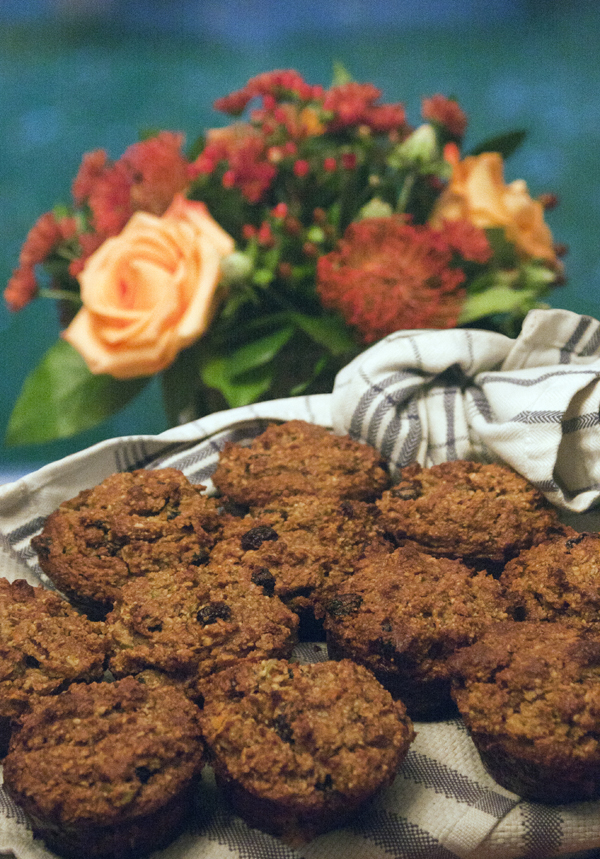 Amazingly satisfying, incredible comfort, these carrot muffins pack a flavor punch in every bite. Their whole food starting ingredients include a good amount of protein and, as always, our recipes are wheat free. These muffins can even be made with no added sugar and turn out delicious. I've even included a comment below so you can make them without eggs if your diet is egg free.
Best of all, they really taste great and are easily packed into much-appreciated school lunches or special events. Isn't it nice to have "treat" options that are a real reward of healthy food?
Makes 12
Ingredients:
2 ½ cups almond flour
1 Tbs cinnamon
2 tsp baking soda
½ tsp salt
2 cups grated carrots
1 large apple, peeled, cored and grated
1 cup shredded unsweetened coconut
1 cup raisins (or unsweetened dried cranberries, or…)
3 large eggs
2 Tbs raw honey (optional)
½ cup coconut or avocado oil
1 tsp vanilla extract
1 tsp orange zest (optional spice—adds "tang")
Preparation:
1. Preheat the oven to 350 F and grease 12 standard-sized muffin tins (or line with paper).
2. Combine almond flour, cinnamon, baking soda, and salt in a large bowl.
3. Separately, beat together the eggs, honey, oil, vanilla extract and orange zest.
4. Add the egg mixture to the almond flour mixture and mix well.
5. Fold in the grated carrots, grated apple, and shredded coconut. This mixture will be very thick. In fact, if you allow the batter to sit 30-60 minutes after mixing in the shredded ingredients, it will turn out even moister.
6. Spoon the batter into prepared the muffin pan. You can fill the tins almost completely.
7. Bake in the upper rack of your oven 40-45 minutes or until a toothpick inserted into the muffin comes out clean.
8. Cool muffins in pan for 8-10 minutes and then remove to finish cooling.
Note: this recipe also works well as a loaf of bread, just increase the baking time another 10-15 minutes.
Copyright © 2011 Marie Sternquist Cecchini. All Rights Reserved