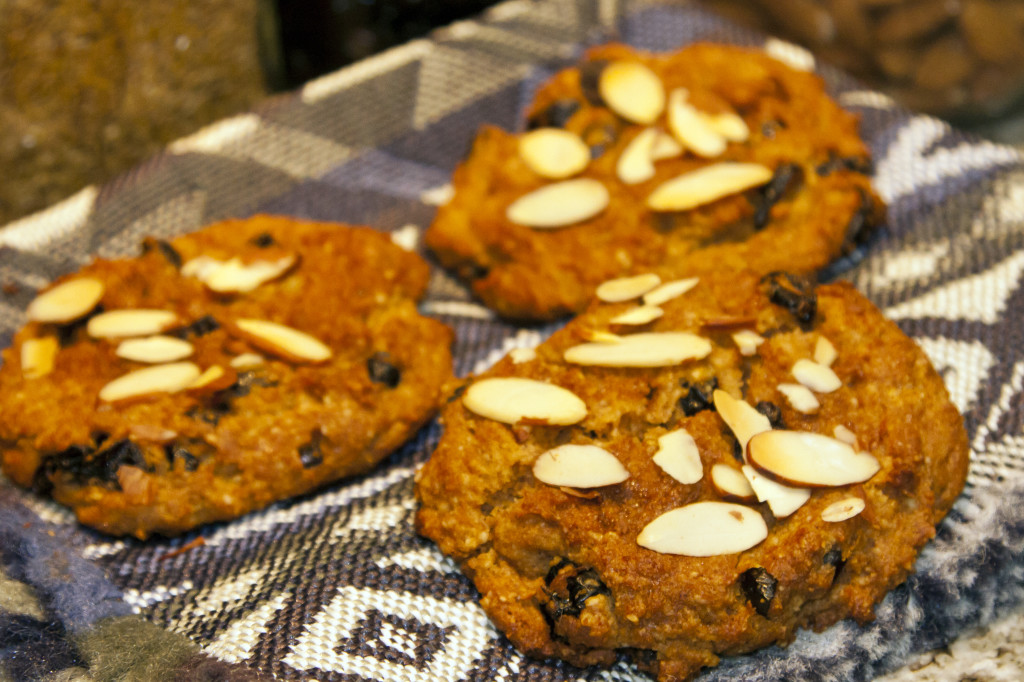 Baking is something to get used to all over again when making the change to a non-inflammatory diet. It can take some adjusting. But don't give up! You truly can have your comfort food joy and healthful eating by choosing ingredients that work. Skip the wheat flours and explore the various nut flours, coconut flour, even arrowroot and potato flour. Each have their own character for fluffier or dense and hearty breads and baked goods. Use this egg-free scones recipe as a starting place for ideas.
One of my clients recently asked how to bake without eggs, is that even possible? I have certainly tried over the years and in the process come up with some really bad failures and not very many keepers.
I really wanted to help her. For her, eggs (and wheat / cereal grains, and dairy) were at the root of stubborn and extremely debilitating joint pain—a sign of chronic inflammation and food intolerances. Unless you raise your own chickens, it can be extremely difficult to find quality eggs from chickens that haven't been fed gobs of really bad stuff. Good eggs are an excellent and nutritious food, but if we've eaten enough of the cheap commercial eggs, the contaminants not only come through the chicken to the egg to our body, but our bodies begin to react to any egg—high quality or bad—as a food allergen.
Once a food, even a good one, begins to be seen by the body as an allergen you have few choices beyond eliminating the food long enough that the antibodies made to it are no longer around: several months, minimally. If your body is reacting to many different types of allergens and foods, this can be quite a project and quite limiting.
Butter is easily changed out for coconut oil without missing a beat.
Dairy can be replaced with any number of nut milks (but watch the added cane sugar and flavorings most brands add; cane and corn sugar are inflammatory).
Baking without eggs?
We were desperate.
These scrumptious gluten-free, vegan scones with an easy egg substitute of 1 Tbs. flaxseed meal mixed with 3 Tbs. of warm water per egg needed. Let the mixture sit for 10 minutes to thicken and give it a "gooey" consistency. This works well in most baked goods I've tried although I find I need a little more baking soda/powder and sometimes other binder (occasionally I'll add small amounts of xanthan gum).
Yields 8-12 scones depending on size
Ingredients
6 Tbs. warm water
2 Tbs. flaxseed meal
1½ cups almond flour
¼ cup coconut palm sugar
2 tsp. baking powder
1 tsp. baking soda
1 tsp. ground cinnamon
4 Tbs. coconut oil
¾ cup coconut milk yogurt
½ cup unsweetened dried blueberries or cranberries (or find cranberries sweetened with apple juice)
1 Tbs. coconut palm sugar for topping
¼ cup sliced almonds for topping
Preparation

1. Stir together water and flaxseed meal in a small bowl; let stand 10 minutes.
2. Preheat oven to 400F. Line baking sheet with parchment paper.
3. Whisk together all dry ingredients: almond and coconut flours, coconut sugar, baking powder, baking soda and cinnamon in a large bowl.
4. Cut coconut oil into the dry ingredients. Pushing the coconut oil into the dry mix using the tines of a fork works very well if you don't have a pastry cutter (I've never owned one).
5. Stir in flaxseed meal mixture and yogurt until mixed well.
6. Gently fold in berries.
7. Drop dough onto parchment paper and form into rounds—balls of dough should be about the size of a racketball.
8. Optional: sprinkle a tiny amount of coconut sugar and some sliced almonds over the tops of the scones.
9. Bake 12-15 minutes, until lightly browned and a toothpick comes out clean. Be careful not to overbake.
add text here
Copyright © 2014 Marie Sternquist Cecchini. All Rights Reserved