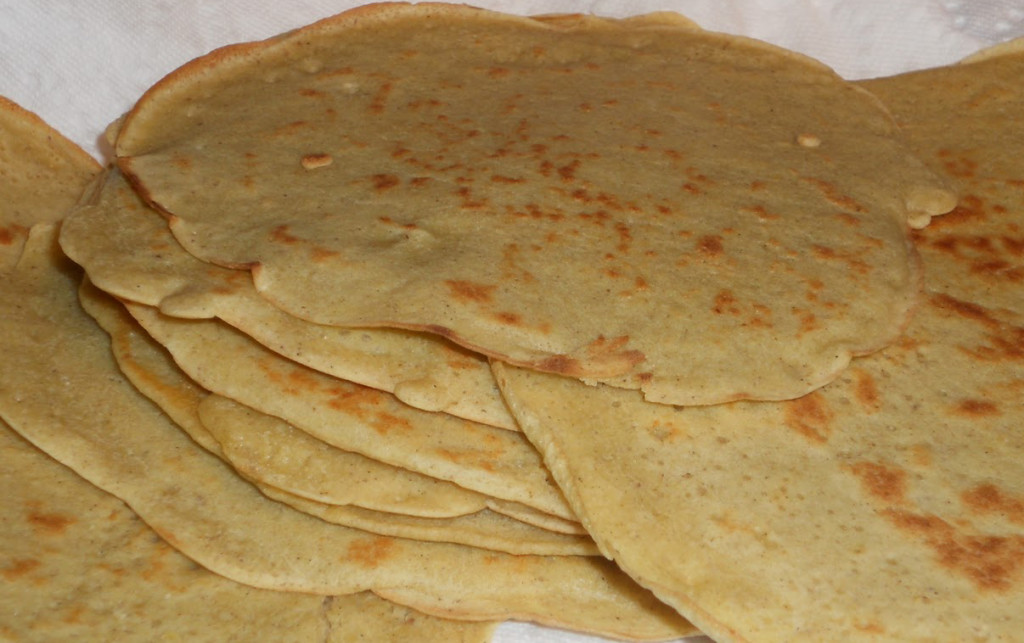 In part 1, we use garbanzo bean/fava bean flour to produce a crepe-like tortilla with a distinctive flavor. Check out the more basic but still gluten-free / grain-free tortillas in "Part 2"
Makes about 8 tortillas
Ingredients
1 cup Garbanzo / Fava bean flour
2 Tablespoon Tapioca flour
1 large egg
¼ teaspoon salt
⅔ cup water
1 Tablespoon oil

Preparation

Put the Garbanzo/Fava flour, tapioca flour, salt and freshly ground black pepper into a bowl and mix together.
Add the egg and beat until the mixture is a smooth but thick batter. Gradually beat the water into the batter, ensuring that there are no lumps in the mixture.
Cover the batter and let sit approximately 30 minutes.
Heat a frying pan or griddle until very hot and then lightly oil. Using a medium frying pan we made 8 tortillas from the batch of batter.
Pour enough batter into the frying pan to thinly cover the bottom of the pan, about the size tortilla you want. Lift the pan off the flame and roll gently to spread out the batter. (you can also use a cast iron griddle, which produces a more even heat). Using a medium heat, cook the tortilla until the bottom just starts to turn golden. It's really similar to making a crepe.
Flip the tortilla over and cook the other side for approximately 30 seconds, any longer and the tortilla will dry out too much, and become very brittle.
Put the cooked tortilla onto a towel on a warming plate and repeat steps 4, 5 & 6 until all the batter is used up. If you are going to store the tortillas, stack them warm and with baking paper between them to prevent them from sticking together.
If you're good at making pancakes then these tortillas will be a breeze to make, otherwise they just take a little practice to get the batter nice and thin in the frying pan or on the griddle, without leaving holes in the cooked tortilla.
Tortillas can be refrigerated or frozen until needed, but should be defrosted before using. Once thawed, they can be warmed, covered, in an oven—just don't let them dry out.
Experiment. These are very plain. They can have garlic, or parsley, or even fennel to serve with Indian food.
Copyright © 2013 Marie Sternquist Cecchini. All Rights Reserved