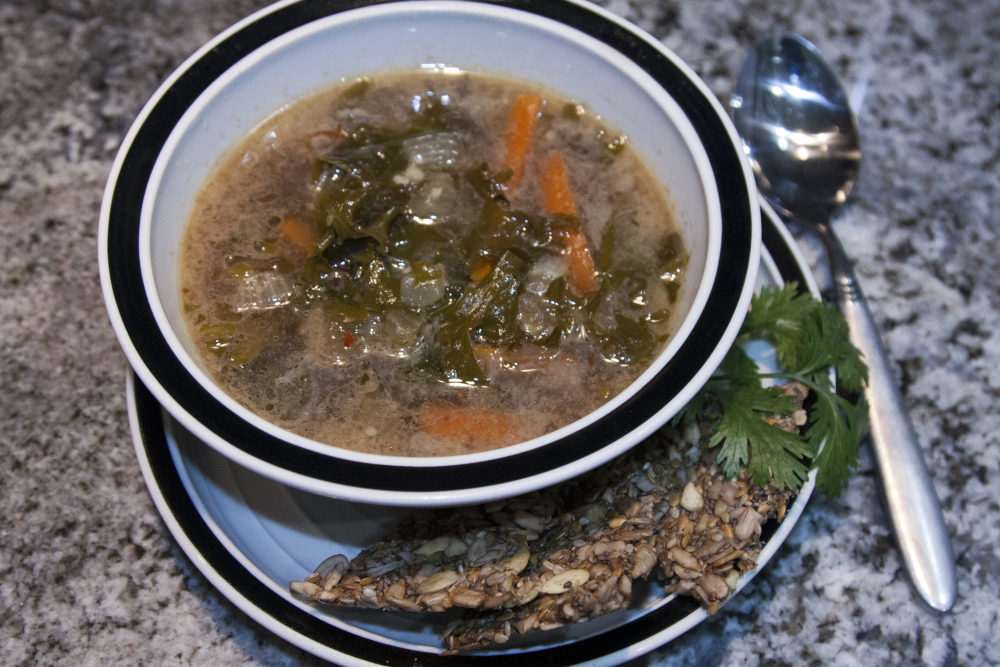 A happy day! I wandered through my Alaska garden and found an abundance of Japanese kale. Next, I conjured up a mental blend of ginger, garlic, kale and miso, my idea of a soul-warming comfort food. Then it became reality.
This soup is a nutritional power house.
The amazingness of home-made bone broth (and the recipe) is here so I won't repeat myself. But read on about these key ingredients:
Kale: As with most veggies, when you cook them you increase some nutrients and destroy some others—especially enzymes. While raw kale is very high in vitamin C, cooked kale isn't but cooking it releases its vitamin K—a fat-soluble nutrient often called "the forgotten vitamin, it shouldn't be. Vitamin K plays an important role in blood clotting, works with vitamin D, is absolutely essential for building strong bones, preventing heart disease, and many other crucial bodily processes.
Miso: the high quality, living fermented product is packed with antioxidants, minerals, phytonutrients, fiber and protein. Because it is commonly made with soy or rice, be sure to buy a very high quality, organic (non-GMO) miso paste. Because it is a living (fermented) probiotic food, it helps rebalances your colon and restore your inner ecosystem—don't cook the miso, add it just before serving.
And let's talk gniger and garlic: Both help detoxify the body and boost the immune system. Garlic has special sulfur compounds (allinase—found in all the allium plants) that are released when the raw bulb is cut, crushed or chewed. These have many healing properties including the ability to kill pathogens. Ginger also has antimicrobial compounds as well as strong antioxidants that help process and drain toxins from the body.
I could go on… but maybe it's time to make some soup, chase off the cold and satisfy my desire for some amazing nourishment.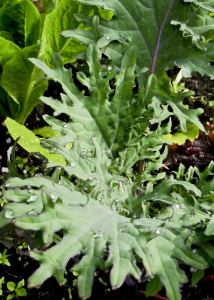 Serves 4

Ingredients
6 cups Mom's healing bone broth
1 medium bunch kale, ribs removed and torn into bite size pieces
1 cup sliced carrots (about 2 medium)
1 large onion, minced
2 cloves crushed and minced garlic
2 Tablespoon fresh minced ginger (about a 2 inch knob, peeled)
½ cup Genmai miso (or any high quality living organic Miso)
1 bunch cilantro, bottom stems removed and chopped
fresh ground pepper to taste
½ teaspoon chili powder or flakes
½ teaspoon ground cumin
2 Tablespoon wheat-free organic Tamari sauce (optional)

Preparation

1. Place bone broth, torn kale, sliced carrots, chopped onion, minced garlic and the ginger in a pot. Bring to a boil, reduce heat and simmer for 10 minutes.
2. Remove from heat, let cool for 10 minutes.
3. Stir in the miso and the cilantro. Make sure you stir well enough so the miso is completely dissolved.

Variations
Add shredded free range chicken meat while cooking for additional protein, if desired.
Delicious served with Squirrel Bread or Seeds Gone Crackers (shown)
[contact-form-7 id="1693″ title="Contact form recipe page"]


Powered by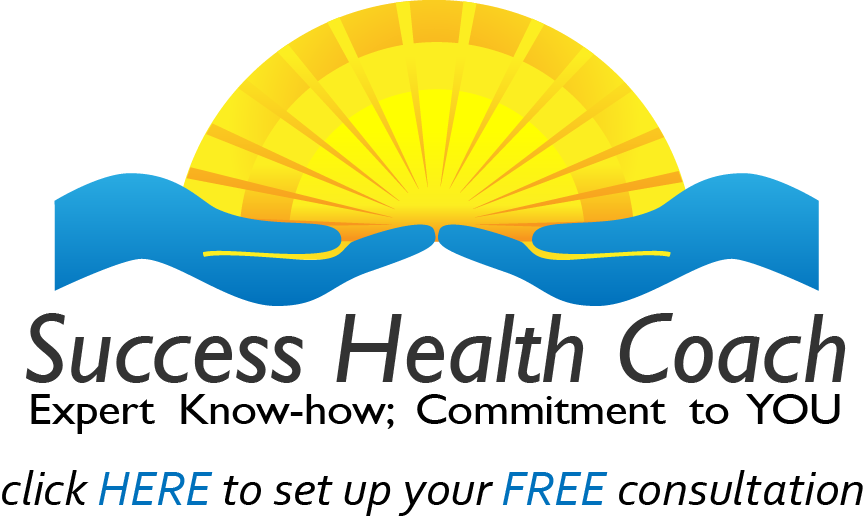 Copyright © 2014 Marie Sternquist. All Rights Reserved