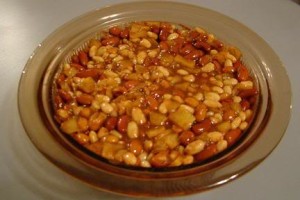 Yum. Naturally sweet with apples, what could be a better addition to a summer BBQ, or fall pot-luck, or winter anytime warmth, or… ?
Makes 4 cups

Ingredients:

2 cups organic dried beans
1 teaspoon salt
1½ tablespoon ground mustard seed spice
2 Tablespoon grass fed butter or olive oil
1 diced onion
2 cup peeled diced Granny Smith apples
Optional: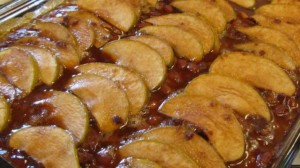 Pour the cooked bean mix in a baking casserole, Peel and thinly slice additional apples and arrange over the top as a decorative finish. Bake until the top apples are just cooked. Very festive and special.
Just as optional: Add 4 Links Italian sausage, sliced and mixed in to cook and/or add chopped bacon.
In either case, look for brands like Mulay's that do not add sugar or honey to their sausages or bacon.
Preparation:
1. Place the beans in a bowl and cover with water. Soak at least 8 hours or overnight. Drain the water and rinse well.
2. Transfer the beans to a large pot; cover with water, add salt and ground mustard.
3. Over medium-high heat, bring beans to a boil then reduce heat to simmer until cooked through, about an hour.
4. Place butter or oil in a saucepan and add onions. Sauté until onions are just translucent, then stir in to cooked beans.
5. During the last 5 minutes or so of cooking, add the chopped apples to the bean mix.
240 E. Tudor Road, Anchorage AK 99503
907-743-3040
Copyright © 2013 Marie Sternquist. All Rights Reserved