One of my great sadnesses on learning what commercial, even organic, wheat does to our digestive tracts and our bodies in general; my great sadness was the loss of pizza. This born-in-New-York gal slowly went through pizza withdrawal, but not without serious longing for what I consider is one of the four major food groups. There is something about that mouthwatering melted cheese, crisp crust, and mood-inspired toppings… goes straight to my very soul.
First I had a period of frenzied experimenting. Next a period of apathy and thinking I would just do without for the greater good… Then, inspired one day (by a certain number one son birthday) at last I bring you:
Perfectomundo Pizza!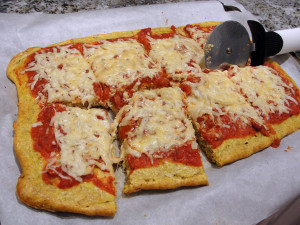 Serves 4
Ingredients
Dough:

3 large free range eggs
3 Tablespoon coconut milk
1 Tablespoon olive oil
½ teaspoon baking soda
½ teaspoon sea salt
1 teaspoon vinegar
1½ cup almonds, ground (the Magic Bullet is just a great tool!)(also, can use, ground cashews, hazel nuts…)
Toppings:
Almond Mozzerella cheese (avoid the cheap, pasteurized products) and tomato sauce
The Kitchen Sink–tomato sauce first covered with grated Almond Mozzerella cheese, then slightly sauteed spinach and garlic, topped with Italian sausage and sundried tomatoes. OMG…
And see below for Pesto, White Pizza, more…
Preparation
1. Preheat the oven to 350F and line a 10 x 15 cookie sheet with non stick baking parchment.
2. Whisk together the first five ingredients until frothy and starting to thicken slightly (if you want a fluffier base then you can separate the eggs and beat the whites, folding them in at the end).
3. Beat in the ground nuts and vinegar until the mix is the consistency of thick batter, not dough. Pour/spread the batter onto the baking parchment in an even, thin layer about ½ inch thick.
4. Bake crust for 10-15 minutes until just firm but not coloured. Cool a little before adding toppings.
5. Re-bake until the edges are golden brown and the toppings have melted together (another 15-20 minutes or so depending on the toppings).
Voila! And much simpler than traditional pizza.
Easily half this recipe by using a 9 x 13 cookie sheet, baking the crust for 10 minutes and the topping about 10-15 until melted.
Variations
White Pizza: slather the crust with roasted garlic and olive oil before baking. Actually you can stop right here and have garlic bread. I could live off of garlic bread. But tonight I want pizza. On top of the roasted garlic goes 1½ cups grated Lisanatti non-dairy mozzarella cheese, 6oz jar olive oil marinated artichoke hearts-thinly sliced, handfuls of chopped spinach, ½ cup more mozzarella, and a sprinkle of black pepper. Rebake another 15-20 minutes until the cheese has melted.
Pesto Pizza: make ahead this Pesto sauce recipe. Spread a generous amount of pesto sauce over the pre-baked crust, top with 2 cups of garlic-flavored Lisanatti non-dairy mozzarella cheese. Rebake another 15-20 minutes until the cheese has melted.
and the original… Butternut Squash and Sage Pesto Pizza (because this is what happens on rainy cold days in Alaska after a good garden growing season)
Sage Pesto—combine these ingredients in your food processor and set aside: ⅔ cup fresh sage leaves, torn; handful of raw pecans; 2 cloves of garlic, minced; ¼ cup extra virgin olive oil; salt and pepper to taste.
Pizza topping—Mix together in a bowl and spread over the prebaked crust: 1 Tablespoon olive oil; half a red onion, finely chopped; ½ medium sized butternut squash, peeled and grated. Top with 1-2 cups of grated Lisanatti non-dairy mozzarella cheese and then a healthy drizzle of balsamic vinegar; salt and pepper to taste. Rebake another 15-20 minutes until the cheese has melted.
Kitchen sink pizza… move over !
Copyright © 2010 Marie Sternquist. All Rights Reserved