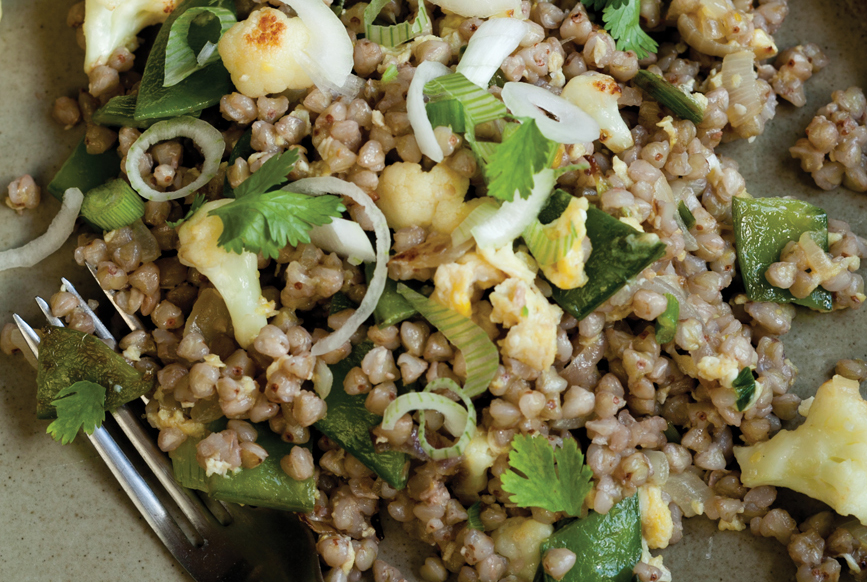 Buckwheat and (optional) eggs make a hearty, high protein start to your day. Make this quick and simple recipe. always a family favorite. Sensitive to eggs or just can't find high quality, free-range sources? No problem, leave them out. Don't have these particular veggies? No problem, use what you have 😉
And by-the-way… this is one of my favorite backpacking breakfasts. I dry the prepared veggies and salsa, omit the eggs, very portable and delicious!
per one-person serving
Ingredients
¼ cup buckwheat groats
2 eggs
1 Tbsp. extra virgin coconut oil
¼ green pepper, seeded and chopped
½ cup cauliflower florets
1-2 spring onions, finely chopped
Handful of cilantro, finely chopped
Salt to taste
Toppings
1 Tbsp. plain coconut yogurt
Salsa (commercial salsas are usually loaded with sugar–this one isn't)
Preparation
1. Cook the buckwheat groats as directed.
2. Pan fry the spring onions with oil for a minute, then add the eggs, cooked buckwheat groats and cilantro.
3. Stir in the pan until the eggs are done to your liking.
4. Now add a sprinkling of salt, cover with the salsa, yogurt and serve.
Copyright © 2013 Marie Sternquist Cecchini. All Rights Reserved