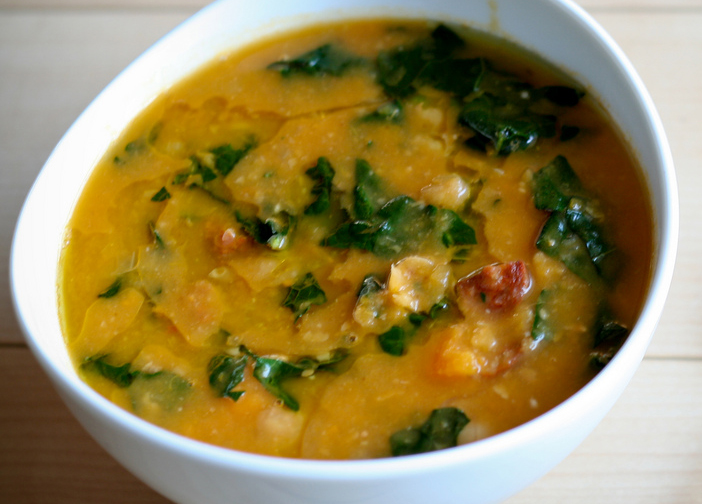 Saphron and crocuses; the warm weather melted the snow off my perennial herb garden.  My rosemary has hints of green, spring is just around the corner. Flying home from Tampa this airport restaurant soup proves there are things to eat almost anywhere. And the chef was willing to share this amazing recipe. My (very few) adaptations make it simple and fit for all. Try the crockpot version: once you get all the ingredients added, there's not much to do besides enjoy the aroma wafting from this hearty, spicy, soupy stew as it slowly cooks.
Serves 6-8
Ingredients
2 cups dried chickpeas, soaked overnight and drained
32 oz. 1 quart chicken broth (Imagine brand does not have added sugar)
½ cup plus 2 tablespoons extra-virgin olive oil or pasture butter
4 garlic cloves, minced
1 large onion, finely diced
1 ½ teaspoons finely chopped rosemary
1 bay leaf
¼ teaspoon saphron
1 pound chorizo, sliced or crumbled
1 15 oz. can diced tomatoes or (4 medium fresh tomatoes parboiled and peeled)
1 pound spinach, thick stems discarded
Salt and freshly ground pepper
Preparation
In a medium saucepan, cover the chickpeas with 2 inches of water and bring to a boil.
Reduce the heat to low and simmer until the chickpeas are tender, about 2 hours; add more water as necessary to maintain the level. Drain the chickpeas and reserve 1 cup of the cooking water.
Wipe out the saucepan; add and slowly warm the olive oil or melt the butter.
Add the garlic, onion, rosemary and bay leaf and cook over moderate heat until the onion is softened.
Add the chorizo and brown.
Add the chicken broth and tomatoes; cook over moderately high heat until simmering.
Stir in half of the spinach and cook until wilted, then stir in the remaining spinach.
Simmer over moderately low heat for about 10 minutes, stirring occasionally.
Season with salt and pepper and serve.
Crock Pot Method
Place the chickpeas in a crockpot with enough water to cover.
Cook on high for 2 hours, then pour off the liquid reserving just 1 cup.
Reduce the crockpot to low, add all the rest of the ingredients except the spinach.
Simmer 4 hours until beautifully cooked, then stir in the spinach which quickly wilts.
Alternately, add all the ingredients at once and let slow cook at least 6, maybe 8 hours until the beans are tender, the chorizo is cooked and the flavors have blended perfectly.
Enjoy!
Variations
We love adding chicken, or removing the chorizo for a vegetarian version, or even adding shrimp. This is a versatile, nutritious soup and amazingly satisfying.
Copyright © 2014 Marie Cecchini Sternquist. All Rights Reserved