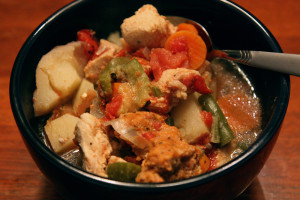 Hands-down this is Dr. Greg's favorite meal. He's an excellent cook and this chicken vegetable soup is just one of many of his culinary wonders. In fact, we like this recipe so well that after having devoured one batch and realizing all too late that we should've-could've taken pictures for you… well, we just made another batch.
Delicious! Easy, works especially well in a crock pot, serve with a side of Squirrel Bread and you have a very satisfying meal for 6-8 people just in from a day of skiing, or whatever your fancy.
Serves 6-8
Ingredients
1 cup diced onion
½ cup carrot slices
½ cup celery sliced
4 cups chicken or vegetable broth (sugar free: careful, read the label!)
2 cups cubed red potatoes
1 cup zucchini sliced
3 cups organic diced tomatoes (2×14 oz cans)
2 bay leaves
1 cup fresh green beans, 1-inch lengths
1 cup sliced okra
1 medium size jalapeno chopped
1 tsp red pepper flakes
2 large chicken breasts—choose free-range, organic—chopped
2 chorizo or spicy Italian sausage—get the sugar-free version made by Mulays (freezer section) or order here
Salt and pepper to taste
1 table spoon olive oil

Preparation
1. Remove the external skin from the chorizo and put in pot like ground burger (try other sausage flavors too)
2. Throw all the rest of the ingredients in a very large soup pot or crock pot.
3. Cook the soup 1½ hours on the stove top or 6-8 hours in a crock pot on low.
serve and savor!

powered by
240 E. Tudor Road, Anchorage AK 99503
907-743-3040
Copyright © 2013 Marie Sternquist. All Rights Reserved