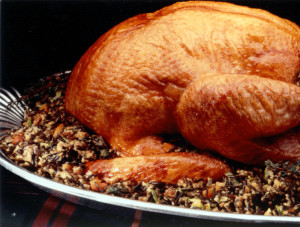 About this time of year we hear an awful lot about "the holiday 10," the anticipated weight gain from all the festivities. Well, who says that has to happen?
Of course… "you just gotta live…"
Guess what? I believe in indulgence. And indulgent food can still be good for you, can still work within those goals for keeping slim and fit, and doesn't have to cause the sugar rush and energy crunch
 of most holiday fare. For you, I've created a collection of wheat-free, refined sugar-free, and dairy-free recipes.
Our menu follows and please let me know if you have healthy traditions of your own.
Enjoy!
Your Holiday Menu
Starters:
Salmon Pate served with crisp sliced cucumbers
 Hummus with an assortment of local vegetables
Buckwheat Pumpkin Bread
First Course:
Golden Squash Soup
Main Course:
Free-Range Roasted Turkey
Original Rice Stuffing
Complements:
Alaska Rainbow Chard
Roasted Root Vegetables
Baked Fennel
Finale:
Grannie's Apple Crisp
Pumpkin Pie
Dr. Greg's famous Vanilla Ice " Cream"
[contact-form-7 id="1851″ title="Question form blog page"]
Copyright © 2011. Marie Sternquist. All Rights Reserved.